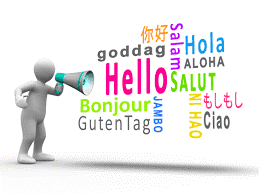 At the start of this year we wrote about what was ahead for language learning in 2015. How was your year? Did you learn a new language or improve on one you already know? I did! I would now say I'm competent at speaking Spanish thanks to my travels in South America. There's nothing quite like being submerged into a culture and language to help with language learning. That said, mobile and tablet apps, software and online resources are certainly a good start and here we will look at some of ways you can boost your language learning in 2016.
A fantastic free site where you can sign up and look for a language exchange partner in your local area. You can then meet up (or converse by email/text) to practice the language you're learning and the language skills you're offering. There are many other sites that offer the same thing as well as local noticeboards/language institutes where you can find notices on conversation exchange meetings and conversation partners.
Whilst this is generally about finding a place to stay when you're travelling it is also a good source of local events and meetings organized by couch surfers. It's a great way to meet locals and foreigners alike to practice your language skills whether it amidst foreign climes or in your home town!
Online communities such as: LiveMocha
This is a language learning experience made up of a community of teachers, other language learners, native speakers and overall language enthusiasts. You can interact with other community members, follow virtual lessons (in 35 languages), get feedback in community areas and connect with native speaking tutors. A lot of it is free, though with the paid membership you can have access to a whole lot more.
Busuu is another platform based around language learning through an online community. With over 40 million registered users this is an app (with paid and free features) worth using.
Free online resources
The world of languages is well and truly at your fingertips. Why not spend some time searching online and benefitting from the wealth of information there is out there? Admittedly not all of it is correct or worth your time but here are a couple of places you can rely on:
BBC Languages: full of audio/video written/speaking exercises in 40 languages. You can learn useful phrases and much more in from Albanian to Urdu.
Foreign Services Institute: developed by the US government but available to the public this site is dedicated to making language courses freely available in an electronic format. You can access tapes, lessons and other materials for over 45 languages. There's nothing stopping you from learning Twi now!
So there you have it, a few ideas on how you can kick-start or improve your language learning in 2016. Good luck!