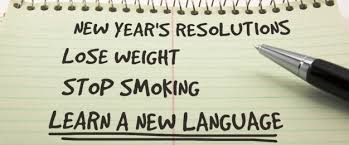 When I started to work for Rosetta Translation people often, and I will stress incorrectly, said (and still do say) 'Oh, yes Rosetta Stone, the ones who sell language learning software'. I have had this same conversation possibly over a hundred times, and each time I have to explain… 'Rosetta Stone is a US company who provide interactive language learning technology, Rosetta Translation (which is no way affiliated with Rosetta Stone) provides language services i.e. translation and interpreting'. So there you have it- please take note!
Nevertheless, just to confuse you all, I will be talking about Rosetta Stone in this post, just briefly…
With the New Year comes the obligatory resolutions, some more likely to be upheld than others. Gym memberships are gobbled up faster than the Christmas turkey and enrolments in singing classes, painting courses and cookery lessons shoot up. We all say to ourselves this year will be the year I …. (fill in the blank). Many of us decide to learn a new language, and indeed a couple of years ago I decided: '2013 will be the year I become fluent in Spanish'. I have certainly made progress since then, but I am, by no means, fluent. This year, I hope, will be the year, as I will have South America as my classroom.
However, for those of you who won't be travelling to sunnier climes with foreign tongues this year, what is ahead in 2015 for language learners? At the end of 2015 Rosetta Stone (remember, not Rosetta Translation) issued a press release predicting some language trends for 2015. One prediction was that Mandarin Chinese will join the FIGS languages in the top five most popular languages to learn.
Most other predictions were focused on US language learners (e.g. by the end of 2015 the number of bilingual Major League Baseball players will exceed 40% and Spanish will be spoken by more than 40 million people in the U.S by 2020)[1], but perhaps the most interesting (yet not very surprising) prediction is that 2015 will be the year in which more people will study a language on their mobile devices than on a desktop or laptop. Do you think you will be one of them?
We live in a world of fast-changing technology, and language learning (and indeed translation) does not escape this trend. Most of us all have a fast pace of life and have less time to sit and learn, so we need technology and applications adapted to our 'on-the-go' lifestyles. With Smartphones, tablets and other gadgets at our fingertips there is an application out there for everyone's language learning needs. Here are a couple of my favourites:
Memrise – this is great for people who learn visually as this app pairs memorable images and mnemonics with words/phrases to help you remember them. And they combine the aspects of 'brain science', 'fun' and 'community' to improve learning speeds.
Duolingo: language learning as a game. According to the creators it is "fun and addictive". Short lessons/games mean you can use this app to learn in your breaks at, or commutes into, work.
So what's stopping you learning a new language in 2015? Now's the time to start!
[1] Source: http://pr.rosettastone.com/phoenix.zhtml?c=228009&p=irol-newsArticle&ID=2002301