We are summarising below some of the more common and attractive career options for language graduates.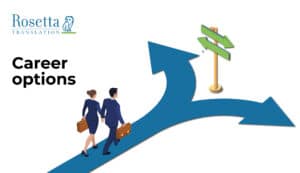 The following list is by no means exhaustive and should be considered as an overview of some of the more common career options you could consider. For more information or advice, feel free to contact us at jobs@rosettatranslation.com.
Graduate placement scheme
Well, first of all you may decide to apply for any graduate placement scheme, or come to think of it any job you like the look of.Graduates who have language skills are popular in the ever expanding international business world as it helps provide a friendly voice and face to the client which, with only non-linguists on board, may not otherwise be possible. A client who is able to communicate in their own language is more likely to do business with a company able to provide this skill. Language graduates should have fairly developed 'transferrable skills' (excellent verbal and written communication, team/independent work, organisation/time management, initiative/problem solving etc)that are attractive to any employer.
Bilingual positions
A bilingual position, such as a bilingual PA or admin assistant, for either British or International companies. If you're flexible about where you live, either in the UK or abroad then this could be one of the better career options for you.
Further study or research
This could be to further your language knowledge, or maybe to break into the teaching profession by undertaking a PGCE specialising in the teaching of French, for example.
Career options in the various forms of translation and interpreting
This is not simply just a case of becoming a translator or interpreter (of which there are many variants) the umbrella term 'translation industry' offers many different career paths.For some quick guides on how to become a translator, interpreter and even a project manager visit our 'How to' section.