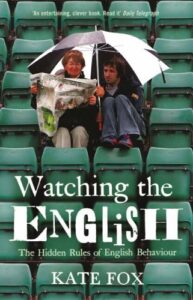 I've recently been immersed in Kate Fox's book Watching the English, a popular anthropological tour of English idiosyncrasies. Much of her assessment of the English national character is rooted in our linguistic habits; indeed, a good half of the book is dedicated to what she calls "conversation codes". It makes a fun introduction to anthropological linguistics, from the English obsession with talking about the weather to their renowned sense of humour to modes of interaction in the pub or at the racecourse.
The section on weather concludes that these conversations have very little to do with conveying information about the current, pending or past meteorological conditions. Instead, Fox regards weather-speak primarily as a facilitator to overcome the English tendency towards social awkwardness. Chatting about the weather can act as a simple greeting or a conversation icebreaker, and Fox highlights the opportunity it provides for two classic English behaviours: moaning and humour. She describes the rules surrounding our weather conversations, most importantly the stipulation that participants must agree with each other about the current conditions as the expectation is that this is an opportunity for mutual affirmation rather than an invitation to discuss or disagree. Despite being English (or rather Welsh), this is a social norm I have fallen foul of myself as I can never quite bring myself to passively agree that a lovely temperature of 24 degrees is "too hot". Fox is entirely correct that my failure to play along with the weather conversation rules causes consternation and often brings the exchange to a grinding halt!
Fox deftly navigates more hackneyed assessments of the famed English sense of humour and suggests that the most distinctive feature is its pervasiveness in English conversations. She suggests almost all linguistic exchanges have "some degree of banter, teasing, irony, understatement, humorous self-deprecation, mockery or just silliness". The root of this national conversational trait is captured in what Fox describes as "the importance of not being earnest rule" exemplified by "ironic detachment, a squeamish distaste for sentimentality … and a mischievous delight in pin-pricking the balloons of pomposity and self-importance".
Formula 1 engineer Guenther Steiner, whose fame was fueled by the Netflix docudrama Drive to Survive, claims he learned how to speak English in a pub rather than in school. But much of Kate Fox's analysis of English pub talk has to do with behavioural rules rather than syntax, semantics or habits. She explores the expectations around privacy (the English unwillingness to reveal much personal information) and fairness (as in the arcane queuing rules when ordering drinks at the bar). The linguistic features she highlights once again have to do with humour in the form of inventive word play and an obsession with nicknames for pub regulars.
Finally, in the analysis of linguistic interactions at horseracing venues, Fox brings us back to what she believes is a particularly English need for social facilitators in conversation. Here, instead of the weather, the racing itself serves as a useful prompt for relatively formulaic exchanges in which a phrase such as "What do you fancy in the next?" stands in for "Nice day isn't it?". While the book doesn't pretend to offer a quantitative analysis of these conversational codes, the selected anecdotes certainly offer plenty of scenarios that will be familiar to permanent residents or visitors to England.