Campaigns for changes to vocabulary to help drive socio-political change are nothing new (see previous blog on requests to modify "sexist" dictionary definitions). As Professor Sally McConnell-Ginet puts it: "Linguistic and social change go hand in hand because linguistic practices are fundamental to social practices more generally." Campaigners for greater recognition of gender identity have arguably harnessed the power of linguistic change like no previous movement, with a proliferation of terms for different genders and a push for more trans-inclusive language. And this time, spelling is getting in on the act too. This week's blog describes how the letter "x" has been adopted for the cause of inclusivity, and how it has not always been plain sailing. Please welcome the inclusive "x"!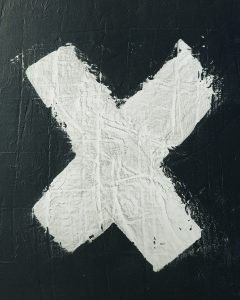 The letter "x" is used to create a gender-neutral and thus "more inclusive" option for various words including "folx", "Latinx", "Filipinx", "womxn", and even the title "Mx". The origins of this strategy seem to go back to the respelling of "women" as "womyn", adopted by some feminists in the 1970s to distance the word from the "-man" or "-men" suffix. During the same period, you will find the first examples of "womxn" being used with the same premise in mind. However, in the last decade, a different meaning has emerged with intersectional feminists using "womxn" more specifically to be inclusive of trans and non-binary people.
In 2020, TEDx (whose own x incidentally has nothing to do with inclusive language) felt obliged to defend a tweet about their "TEDxLondonWomxn" event, saying "No, that's not a typo: 'womxn' is a spelling of 'women' that's more inclusive and progressive". It is fair to say there was some pretty vocal dissent, particularly from those we might previously have described as "women". Maya Forstater argued "It is neither inclusive nor progressive to use unpronounceable buzzwords and suggest that female people don't have a name already."
By March this year, the live streaming service Twitch found to its cost that the climate had already changed with the BBC reporting "Twitch backtracks after outcry for using 'gender neutral' term 'womxn'". This time the complaints were from the trans community, protesting that "womxn" is transphobic because it suggests that trans women are not women, while non-binary "folx" have no desire to be included in either the "womxn" or "women" categories. It was even suggested that "womxyn" had originated as a trans exclusionary radical feminist term, which is ironic given the distinct lack of love for the word from prominent gender critical feminists.
Good intentions seem to have unravelled in a similar way for the term "Latinx", which attempts to replace the gendered "o" and "a" found in Spanish with a gender-neutral ending. Popular among liberal politicians in the USA, the word has failed to take off in the very community it purports to describe. One survey suggested only 1 in 4 Latinos are even familiar with the term, with just 3% using it to describe themselves. The "folx" neologism is perhaps even odder since the word "folks" is itself gender neutral. This vocabulary choice seems to reflect Nina Kossoff's account of how "the queer community … has always found ways to signal [themselves]". For a little letter with a relatively short history, it has certainly been a bumpy ride.