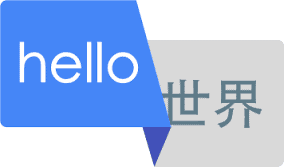 We have written previously about Facebook and their research and development in the areas of AI and ANN (artificial neural networks) and it appears now that Google Translate is following closely in Facebook's ANN footsteps. Ten years since the launch of Google Translate and the search engine giant has announced a production scale launch of the 'Google Neural Machine Translation System' (GNMT).
The research paper that Google released on 27th September 2016 discusses the ways in which they have been working on Neural Machine Translation (NMT) to improve on their current Phrase-based machine translation (PBMT) model. Their aim has been to get their NMT model to a large and reliable enough scale in order to provide "better translations for Google's users and services."
In its blog, Google summarizes the findings of the paper and the results of the evaluations of the tool.  Human evaluators marked translations out of a score of 6 (where 0 is utter nonsense and 6 is perfect) in several language combinations such as French <> English and Chinese <> English. In comparison to texts translated by the PBMT tool, the NMT tool scored much closer to a translation from a human (note that even humans didn't score a perfect 6!). Further to the scoring system the results from the evaluators show that the GNMT reduces translation errors by more than 55% in major language pairs.
Currently, Google Translate supports over 10,000 language pairs, and one of the most notoriously difficult is the Chinese > English pair. Google has announced that is now using the GNMT model tool for this language combination in both its web and mobile apps. This will support the approx. 18 million translations being completed per day from Chinese into English. Over the coming months they plan to introduce GNMT into the other language pairs.
The researchers from the Google Brain and Translate teams aimed to address several of the known issues of NMT in their project and development of the GNMT. Namely; the prohibitive nature of NMT requiring very large data sets and computational capacities as well as the expense of handling these large data sets; the lack of robustness when confronted with texts containing rare words.
I won't go into detail here about what the actual tool looks like from a back end perspective, if you want to read more I'd advise checking out the paper for the nitty gritty of the science behind the tool. What is apparent is that it is a complex tool with many layers of encoding/decoding of words to ensure that it isn't simply a matter of literally translating one word into another language a word at a time irrespective of words around it or context. With translations from the GNMT showing an improvement of up to 85% on PBMT (an average of 60% for language pairs EN<>FR and EN<>DE for example) it looks like we're one step closer to finding a 'perfect' machine translation.
One of the restrictions of NMT is that it sometimes doesn't translate all the words in a source sentence and it has difficulty handling rare words, as well as being a lot slower than PBMT models. Though Google have sought to address these as much as possible it's difficult to eradicate these completely in its current state. Regardless, GNMT is a huge step in creating intelligent translation tools based on deep learning. Where will AI take us next?
Resources
Google blog:
https://research.googleblog.com/2016/09/a-neural-network-for-machine.html
Research paper: