According to a recent YouGov survey, a quarter of the British population report being "very or fairly bothered" when they hear those from a non-English speaking country talking to each other in their own language when in the UK. It's hard to know where to begin with an assessment of this state of affairs. Firstly, I doubt there are many (if any) readers of a language and translation blog who would put themselves in the "bothered" category. But I also suspect we dismiss this sentiment at our peril. Could there be a link between monolingualism and intolerance?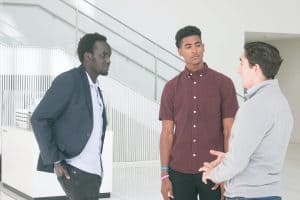 When you are passionate about the benefits of multilingualism and steeped in the joys of multi-culturalism, it's easy to forget that not everyone feels the same way. A quarter of the population is a significant chunk, and the survey revealed that the "bothered by foreign languages" contingent rose to 41% among those who had voted in favour of Brexit. The unpleasant bigotry underpinning these attitudes was clear in the "Happy Brexit Day" posters distributed around a block of flats in Norwich on the day the UK formally left the EU in January. The posters instructed residents not to speak in foreign languages and declared "Queens [sic] English is the spoken tongue here". The police were called to investigate a "racially aggravated public order incident". However, linguists may also appreciate the attempt to combat hatred with syntax, punctuation and a dose of humour – so it's worth admiring the proofed version of the original text that soon did the rounds (see Twitter link in the sources).
Where does this prejudice come from and what can we do to tackle it? The reality is that Britain is predominantly a monolingual country. A survey reported by the British Council suggests 62% of people in Britain cannot speak any other language apart from English. This inevitably influences opinion on the value of multilingualism. I recall arguing with an acquaintance many years ago as he bemoaned the amount of government money being "wasted" on unnecessary Welsh translations when "everyone in Wales speaks perfectly good English too". He was surprised when I pointed out that even in a bilingual society you might feel more confident conversing in one language. Surely public bodies are right to devote money to publishing material in what is the mother tongue for many of their tax payers?
The 2012 EU study "Eurobarometer – Europeans and their Languages" found that an average of 54% of EU citizens could take part in a conversation in a language other than their mother tongue (compared to a measly 39% of UK citizens). It seems to me this puts British people at a distinct disadvantage – a monolingual mindset constrains our outlook when it comes to accepting cultural diversity. If you grow up surrounded by different languages, maybe you are more inclined to accept that not everyone is like you, and that being different is a benefit not a threat. There definitely seems to be a natural connection between monolingualism and intolerance. This blog has previously touched on the decline in foreign language learning in British schools (https://www.rosettatranslation.com/monolingualism-21st-century/). Finding a way to reverse this trend is surely an essential first step towards combating a culture of monolingual intolerance.
Sources
https://yougov.co.uk/topics/politics/survey-results/daily/2020/02/03/66818/3?utm_source=twitter&utm_medium=daily_questions&utm_campaign=question_3
https://www.theguardian.com/politics/2020/feb/01/police-called-in-after-poster-tells-residents-of-flats-to-speak-english
Combating xenophobia with grammar:
https://twitter.com/marshpups_dad/status/1224410523837640711