Back in 2017, the Rosetta blog reported on problems with the International English Language Testing System (IELTS) used to assess healthcare workers' English language abilities before being approved to work in the UK. Somewhat famously, an Australian nurse failed the IELTS, one of several cases to cast doubt on its legitimacy as a test of functional English abilities. Part of the proposed solution was the introduction of the Occupational English Test, which would be geared specifically towards the practical language requirements for nursing and other healthcare professions.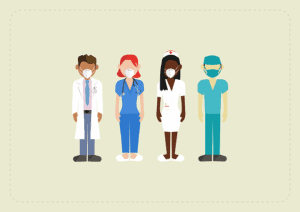 The OET is now accepted by UK's Nursing and Midwifery Council and has four components — listening, reading, writing, speaking — which are examined at a test venue (with paper and computer options) or taken at home. The tests are continuously updated to make sure the content is relevant for typical workplace situations. For example, the writing task might involve composing a referral or discharge letter, while the listening task involves role-play based around a workplace interaction.
Almost half of the candidates taking the OET are nurses, with doctors, dentists and pharmacists making up the overwhelming remainder of test candidates. But it is also recognised in optometry, podiatry, veterinary science and a number of other professions. Countries that accept the OET as a healthcare entry qualification are Australia, New Zealand, United Kingdom, Ireland, Dubai, Singapore, Namibia and Ukraine. In July 2022, the OET was approved by the U.S. Department of Health and Human Services for nurses seeking entry to the USA.
The international success of the OET suggests it is doing a better job than the IELTS in identifying the language skills required for healthcare professions. However, a 2022 survey by the UK's Nursing and Midwifery Council received 34,000 responses and highlighted two key areas for potential improvement in the English language qualification requirements. Firstly, the minimum scores accepted when combining test scores will be standardised and the period for combining scores will be extended from 6 to 12 months. An article in Nursing in Practice highlighted the case of an experienced nurse from India who had attempted the IELTS and OET a total of 14 times. This nurse described how she achieved the required scores for each module on separate occasions but had not yet successfully attained these results in a single set of examinations. The more generous qualification time will allow the necessary results to be collected over a longer period.
Secondly, for applicants who narrowly miss the required score or who have trained in English in a country where English is not a majority language, the NMC will be permitting the submission of supporting evidence to facilitate assessment of an applicant's language abilities. In this scenario, an applicant who is already working successfully as a healthcare assistant in the UK would be able to provide evidence of their professional competence to support their request for inclusion on the NMC register. This change is based on the findings of researchers at Salford University, who set out to examine barriers to registration among nurses working as healthcare assistants for more than 5 years, who often find themselves in what the researchers describe as a "pre-registration void". The authors suggest that "If the concern was about the communication with patients' not being in English, living in the UK for more than 5 years and working at health care should be evidence enough."