My family spent Christmas in Covid quarantine, with my husband receiving an unwanted early gift in the form of a positive test result late on Christmas Eve. It was time to raid the kids' toy cupboard for games and jigsaws to keep us entertained, and first to emerge was every linguist's favourite, Scrabble. Surprisingly, I haven't covered this beloved board game in a blog before. Maybe I still bear the psychological scars from being trounced by non-native English speakers (including a certain Rosetta founder and managing director) when playing it in my student days. It turns out playing Scrabble against Linguistics PhDs puts you on a hiding to nothing. By now, I had internalised that crucial lesson on how to win at scrabble. I was more careful in selecting my opponents, targeting the coronavirus hampered husband and my 12-year-old!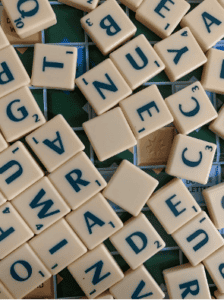 Fifty percent of British homes own a scrabble set (according to Wikipedia) with 150 million sets sold worldwide in over 30 different languages. The game was created by US architect Alfred Mosher Butts, who adapted a previous wordplay game to create "Criss-Crosswords". Butts manually tabulated the frequency of letters in different words to determine the number of letters in the tile set and to allocate their point score. His sources included a dictionary, the Saturday Evening Post, the New York Herald Tribune, and The New York Times.
The game is deceptively simple: place the tiles to create words to score as many points as possible. But strategy is crucial. Professional players often hold back "useful" tiles and offload "difficult" letters with the long-term aim of playing all their tiles in one go to score a 50-point bonus. Expert players also have a prodigious vocabulary – a basic requirement is knowledge of over 80,000 playable two to eight letter words in addition to a healthy number of nine-letter words.
The skills required by top Scrabble players have more in common with those exhibited by computer scientists and mathematicians than with poets or creative writers. So it is not surprising that computers can now beat the best human players. Having said that, with the element of luck involved in tile distribution, there is always a chance the computer will be foiled by unplayable letters! At least the computer isn't hampered by the kind of human emotion and fallibility beautifully documented in the New York Times piece "Humankind battles for scrabble supremacy" (see sources).
As well as carefully selecting your opponents, a crucial step to domestic Scrabble greatness involves meticulous memorisation of the two-letter word list. This expands your playing options and increases the chances of a sneaky "bingo" (playing all your tiles in one go). You just need to resist the linguist's natural tendency to ask, "but what does that word actually mean?". As Oliver Roeder explains in his account of the world's best scrabble player "For living-room players, Scrabble is about language, a test of vocabularies. For world-class players, how to win at Scrabble is about cold memorization and mathematical probabilities."
Sources
https://en.wikipedia.org/wiki/Scrabble
https://www.nytimes.com/1998/05/24/magazine/humankind-battles-for-scrabble-supremacy.html?pagewanted=all&src=pm