Humans are inherently tribal. We seek out other people like us and our sense of belonging is often reinforced by the language we use to communicate with our chosen group. This is the premise for Susie Dent's wonderful exploration of the language used by Britain's "Modern Tribes". Whether these groups are united by their work or a leisure interest, they often bond by developing an exclusive vocabulary and Dent has taken it upon herself to infiltrate these diverse bands in the interests of linguistic research.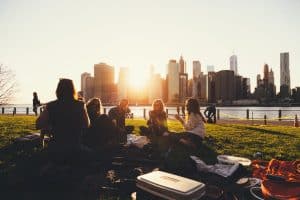 Dent's defined tribes are roughly grouped into sections dealing with the great outdoors (birdwatchers, ramblers, runners), travel (trainspotters, cabbies, bikers), entertainment (actors, musicians, comedians) and other generic areas. She describes the language of over 50 "tribes" within these categories, so there is truly something for everyone in this book. You'll almost certainly be drawn first to a section you feel an affinity for. I flicked straight to the description of runners and found a slightly underwhelming outline of the vocabulary used by this group. The real delight to be had is leafing through the sections where you have no prior knowledge or expertise.
What struck me above all was the humour running through much of the tribal language. So bird-watchers (self-described twitchers or birders but probably not ornithologists) have tick – a sighting to be crossed off your list, a life tick – first ever sighting, and the marvellous tart's tick – a relatively common sighting that is crossed off later than expected. And who knew that the pied wagtail could be referred to as the Chiswick flyover, apparently from the way it chirps "chizzik" as it flies overhead.
Trainspotters are often characterised as earnest, anorak-wearing oddballs, but in their tribal terms they reveal a streak of mischievous wit and self-mockery. Fellow train enthusiasts might be referred to as ferroequinologists (observer of iron horses!) or trackbashers (dedicated to travelling every inch of track on the system), while normal is used to denote someone who is mysteriously uninterested in trains and railways.
When it comes to sports, darts is the clear champion for creative vocabulary, possibly fuelled by the consumption of copious quantities of beer. The final rubber in a darts game is known as the prophylactic! A 3-dart score of 26 is called a bed and breakfast, based on the standard price of B&B in England in the early 20th century of two shillings and sixpence. 57 is referred to as all the varieties after a well-known Heinz advertising slogan. And a score of 111 is a Lord Nelson, denoting one eye, one arm and one testicle (although cricketers also claim credit for this definition).
Football fans are probably the biggest sporting tribe in Britain, and Dent explores the swearing, the terminology used to describe tactics and the language of the post-match interview. She covers the fabulous adverb "footballistically" coined by Arsene Wenger and some of the more creative terrace chants. Dent refers to but does not explore the origins of another classic footballing phrase "park the bus", supposedly coined by Jose Mourinho to describe defensive play by Tottenham against his Chelsea team back in 2004. Somewhat ironic given his latest switch of allegiance. At any rate, this reminded me of the far more entertaining pronouncement by Slavan Bilic describing West Ham's 3-0 defeat of Liverpool in 2015 saying "We parked the bus, but we didn't put the handbrake on". Whichever of the modern tribes you are in, the scope for linguistic invention is unlimited.
Source
Susie Dent "Dent's Modern Tribes: The Secret Languages of Britain" 2016, John Murray (Publishers)