The decline in numbers of UK students taking modern languages at GCSE, through to A-level and at university is well documented. This blog has touched on the issue on several occasions, in particular in March of last year when we asked "Are modern languages an endangered species in British schools?". A recent article in the Times Education Supplement highlights a project which hopes to tackle the problem using innovative approaches to teaching. The Creative Multilingualism project is a collaboration between six universities (5 British, 1 American) which aims to investigate the interconnection between linguistic diversity and creativity.
Katrin Kohl, principal investigator on the Creative Multilingualism project, outlines what she believes is at the root of the problem, "We think that what has got lost is an understanding of the value of language as something that makes us human, something that is related to our imagination, our cultural intelligence, our ability to engage in culturally rich ways with other people. By enhancing our language capabilities, we make ourselves more creative".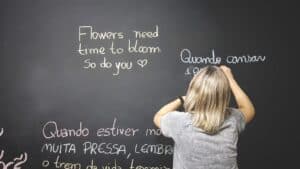 This philosophy suggests a different approach to language learning to include more creative elements. The project will team schools up with local theatres, for instance, encouraging participation in a range of performances from short sketches, to play readings through to full theatre productions. And there is a deliberate emphasis on community languages, i.e. the second languages so many children speak at home, in addition to the languages being learned more formally at school. The aim is to engender a feeling that language is exciting and intrinsic to who we are as people.
The project researchers also stress a need to re-evaluate how languages are assessed at school. Interestingly Kohl is critical of an over-emphasis on fluency saying "Kids are promised that if they learn a language they will become fluent, which doesn't really happen. There is no quick fix – learning a language is a long-term process that needs a huge amount of practice". She suggests that expectations at GCSE level, for instance, are skewed by increasing numbers of near-native speakers taking these exams, with the result that expectations are too high for genuine foreign language learners. In an attempt to compete with unrealistically high standards, students end up learning chunks of language and regurgitating ready-made material in a bid to appear fluent, rather than going back to basics and properly learning the grammar and vocabulary so they can genuinely create new sentences, albeit potentially at a more basic level.
In some ways this emphasis on creativity goes back to quite traditional modern language teaching styles, with the focus on learning the deep structure of the language. At any rate, the project will seek to back up its hypotheses with empirical research comparing outcomes for their more creative approach with the current more functional emphasis.
Sources
https://www.creativeml.ox.ac.uk/
Interview with Katrin Kohl, Times Education Supplement, 8 June 2018, pages 46-48
https://www.rosettatranslation.com/modern-languages-endangered-species-british-schools