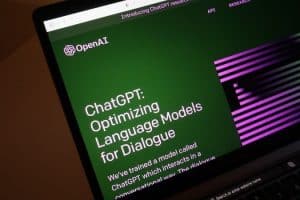 Everyone is talking about ChatGPT, and the brief snippets I glimpsed initially gave me the heebie-jeebies. Game-changing, human-erasing, or a fun gimmick with a limited range of applications? The AI language model seemed capable of producing plausible text in a way that might well affect those of us who spend our days wrangling with words. I took the only sensible decision and ignored it. But with a niggling sense that such cowardice could not be defended forever, this week's blog led me to sign up for a ChatGPT account and start asking questions.
There seemed to be little point messing about, so I dove straight in and asked "Will ChatGPT put translators out of work?" The response begins well both in terms of style and message: "As an AI language model trained to process and generate text, it's true that I have the potential to make human translators redundant in some contexts. However, it's important to note that language translation is a complex process that requires more than just the ability to generate text in different languages."
I could hardly have put it better myself, but isn't that exactly what I should be worried about? While being well aware that ChatGPT lacks the human ability to engage in subterfuge, I nonetheless found myself wondering if the AI was trying to lull me into a false sense of security as its response continued: "AI language models like myself are not intended to replace human translators, but rather to complement their work and make the translation process more efficient. While I may be able to handle certain tasks on my own, there will always be a need for human translators who can bring a depth of understanding and nuance to the translation process that cannot be replicated by machines."
So far so good, but translation is not ChatGPT's main function, and existing machine translation engines are already having an impact on the industry. A more interesting question is how ChatGPT might fare when asked to produce original content. With a degree of trepidation, I submitted the instruction "Write a blog post about language that will fascinate the target audience." The resulting text was syntactically flawless, made complete sense, and was arguably well written from a stylistic perspective in the sense that it flowed smoothly. It was also crushingly dull.
The opening paragraph gives a good sense of what was to come "Language is a fascinating and complex aspect of human communication. It allows us to express our thoughts, feelings, and ideas to others in ways that are both nuanced and precise. From the smallest nuances in tone and inflection to the grandest sweeping gestures of poetry and literature, language is an ever-evolving, endlessly fascinating subject that captures the attention of people from all walks of life."
As a powerful sleeping draft, this could be extremely effective. But as engaging and thought-provoking content to spice up your lunchbreak or commute? Not so much. The truth is that great writing requires a spark that is arguably inherently human. What ChatGPT gives you is essentially a very advanced parrot function. As Freddie de Boer writes, ChatGPT is a system that can "effectively mimic sensible human-produced language samples". However, he gives short shrift to hyperbolic suggestions that "ChatGPT is sentient, the world is about to end, the Rapture is here, nothing will be the same."
Photo by Rolf van Root on Unsplash