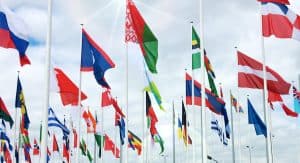 When it comes to translations, turning to an external partner isn't always a company's first move. So why outsource my translations, and to whom?
For businesses with international offices, multilingual staff and overseas distributors, it often feels like the logical thing to keep the work in house and leverage the existing resources available to get the job done with what's already in place.
And it seems to make sense – the people involved are already familiar with the company, know its products and services, and are within easy reach to collaborate and get the project done.
What's not to like?
In reality, however, managing translations internally without a dedicated team can quickly become inefficient, distracting and expensive – even when the opposite appears to be true.
Not convinced?
Here are three reasons why outsourcing your translations projects can be a better business choice.
Engage a complete set of expert resources
Translation agencies are comprised of specialists in every position – from subject-matter expert native translators to professional editors and quality assurance teams.
Where existing bilingual or bicultural employees may be a fantastic resource for handling daily international correspondence, critical business materials often require a level of expertise that non-specialist professionals cannot replicate, whether in English or any other language.
In the course of normal business, a UK company will engage lawyers for contracts, marketers for advertising and finance specialists to handle accounting, investment and key transactions.
When it comes to crossing language barriers, this expert familiarity with subject matter is still required, and the chances that multilingual employees also have deep technical experience in these niche business areas is usually low.
Just as employees are not typically authorised to create technical manuals, write user help or to draft contracts without the required level of experience and know-how, it's critical to maintain these standards when trading or expanding in overseas markets.
Translation agencies bridge this knowledge gap by working with a network of specialist translators, assembling the right language teams for each specific project or document.
Often these translators have years of experience working with a single type of translation and are supported by subject-specific university degrees, making them genuine experts in their domain.
In addition, dedicated proof-reading teams add a vital extra layer of quality control, ensuring translations into other languages are fluent, accurate and error-free.
Work with someone fully accountable
Unless the individuals or interim in-house teams assisting with translations are full-time language specialists, they usually have another (often more important) focus to their roles.
Getting involved in translation projects can provide some variety, a chance to use language skills and to work with new people across the business, but if it isn't linked directly to career development or performance appraisal, it often remains a secondary responsibility.
As long as things go well, this can be a great arrangement!
But when translation quality issues emerge or deadlines are missed, it's a more difficult scenario to handle.
You can't fire your internal staff for poor performance on a peripheral project assigned to them on the basis of their extra language skills, and without a formal framework it can lead to bottlenecks, tension and sub-par output.
Even if you have dedicated translation staff – can you really afford to get rid of them entirely over a botched project?
Unlikely.
Can you fire your translation agency, on the other hand?
Absolutely – and they know this.
For translation agencies, language projects are their bread and butter – their only source of income, and the life blood of their business.
Quality issues, late deliveries or inaccuracies in translation projects could mean losing clients and key future business.
This provides an in-built incentive for outsourced translation teams to focus firmly on meeting project deadlines and ensuring the highest possible quality of work.
Unlike internal teams, they don't have a 'primary' function to go back to or a salaried job – if their work isn't excellent and on time, it could mean the end of the road for the client relationship.
Save money – yes really!
It can seem counter-intuitive at first to think of paying a third-party supplier as a cost-saving option, but translation agencies can offer significantly cheaper solutions than in-house teams.
In the first instance, agencies are only paid for the deliverables they provide – no ongoing salaries, overheads or other costs associated with internal employees (whether or not there are high volumes of translation projects).
If your translation needs come in peaks and troughs, then the expandable resource of an outsourced partner is usually a major saving over a permanent and partially-unproductive team.
Secondarily, translation agencies leverage specialist technology to accelerate their delivery and keep your final cost as low as possible.
On top of project management tools and other workflow platforms aimed at creating a more efficient overall process, Computer Aided Translation (CAT) software makes the actual translation piece itself faster and cheaper.
A key part of this is Translation Memory technology, which automatically detects any text that has been translated before, and enables translators to leverage existing previous translations as well as isolating 'new' content in materials which are being updated or added to.
The result means only paying for the parts of your translation project which are brand new, and the ability to build a base of translated terms, technical terminology and brand-based vocabulary which all adds to the speed with which your projects can be completed and drives down cost.
Looking for translation services?
Rosetta Translation specialises in high-quality translation and language services with multi-sector expertise in all major languages.
Our team is comprised of experienced translators, proof-readers, editors, transcribers and interpreters, each with expertise in specific types of translation and deep knowledge of niche subject-matter areas.
With experience in a wide range of commercial sectors spanning legal, financial, engineering, medical and technical translation, we also work with a team of desktop publishing and website localization experts, partnering with domestic and global brands to produce high-quality translations that stay true to our customers' brand, tone and values.