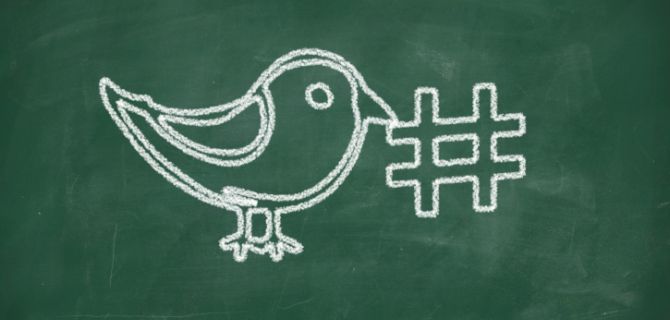 France's linguistic leaders are refusing to adopt the word 'hashtag', but what does the country have against online anglicisms?
Hashtag, LOL? It's safe to say that the majority of us know what these three phrases mean and even use them – or at least have used them – every now and again. However, if you were to presume this trio of terms is recognised and accepted across the world, you'd be wrong. In France, these internet-based neologisms are actually banned, with French language alternatives replacing them. So why does France hate the hashtag so?
Instead of 'le hashtag', as you might expect, French citizens are expected to call the symbol 'mot-dièse', which means 'sharp word' in English. Meanwhile, LOL is officially translated into French as 'MDR' (translated as 'mort de rire' – dying with laughter).
So why the hate for the hashtag? Turns out it all boils down to the French government's attempts to preserve the country's native language and protect it from the infiltration of anglicisms. The organisation behind it – the Commission Generale de Terminologie et de Neologie – has a main objective of keeping French relevant in the online age, despite the fact the vast majority of vocabulary in this area is based around English.
This isn't the first time that such steps have been taken, either. In 2003, the nation's leaders replaced the word 'email' with 'courriel', while it also attempted (unsuccessfully) to introduce new words for 'blog' and 'Wi-Fi'.
Keeping language alive
However, while it might seem petty to outsiders, these policymakers might just be onto something. While it's already too late for distinctly un-French words like Hamburger already well ensconced in the French vocabulary, nipping hashtags etc in the bud early on could help to keep French, well … French.
Of course, it's unlikely that this invasion of the English language will be completely rebuffed, as the influence of English-speaking brands and popular culture is just too broad and too powerful.
There has already been opposition to mot-dièse, with Mashable reporting that Twitter users are complaining the dièse represents a slanted musical symbol, rather than the traditional hashtag that social media fans are used to.
That said, it doesn't mean France's – and other country's – leaders should just sit back and wait for their language to become obsolete. While the replacement of these few phrases for their French alternatives may be a small step, it's a significant one.
Of course, the French language is nowhere near extinction, but who knows what could potentially happen in years to come. At one point, Latin was spoken by one of the most powerful civilizations in Europe and we all know how that ended.
While it might seem unfeasible that French could disappear at the moment, better to act now to preserve a language than to take steps when it's too late.
From a business point of view, this also raises the issue of what you can and can't get away with when it comes to speaking English in foreign business meetings. While some will expect it, others may prove to be more resistant to it, providing a barrier that needs to be broken down straight away if progress is to be made.
With this in mind, why not check out our translation services today to see how we can help you?