Contemporary concerns over climate change and the threat of extreme weather conditions may not be entirely new. Researchers attempting to decipher the runic inscriptions on the Rök stone from Scandinavia now believe it may refer to fear of an impending climate crisis. They suggest that the 9th century stone alludes to the potential for an extreme winter akin to the catastrophic weather events of 535-536. What is interesting for a translator is that this interpretation is simply the latest in a series of suggestions about the content of the stone's inscription. This is a case where a definitive translation is simply not available.

Early translations of the stone's inscriptions focused on heroic battles fought by Viking kings. But in 2016, Per Holmberg, professor of Scandinavian Languages at the University of Gothenburg in Sweden, suggested a more prosaic interpretation. He proposed that much of the stone's text is simply self-referential – it contains information about the stone itself and how it was carved. This would make it more like other runestones from the Viking Age. In Holmberg's interpretation, the riddles on the front of the stone are said to refer to the daylight necessary to read the runes, while the rear of the stone contains information about the runic alphabet and how the runes were carved.
He blames earlier 'misinterpretations' on a minor reading error combined with a dose of nationalistic wishful thinking that influenced scholars into finding tales of heroic battles and tales of honour and vengeance. All of which shows that even translators need to guard against external factors that can prejudice their choices.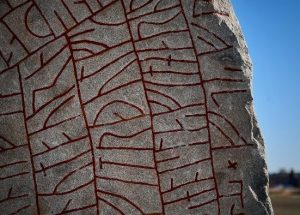 Holmberg is also involved in the latest study on the Rök stone, which brings together experts from philology, archaeology and the history of religion. Hopefully these scholars are not falling prey to a similar contextual bias and being overly influenced by the understandable current climate fixation in their new interpretation of the inscriptions.
The stone's creators certainly didn't intend to make interpreting its text straightforward. In addition to encrypting the text using ciphers, the reading order of the lines is hotly disputed, with Holmberg describing a "labyrinth principle" where the reader is taken from a starting point at the lower left side of the stone then guided to find the next line from the beginning or end of the previous one until they reach the end of the inscription.
One thing is for sure: if you find translation mysteries intriguing, the Rök stone is one of the world's finest.