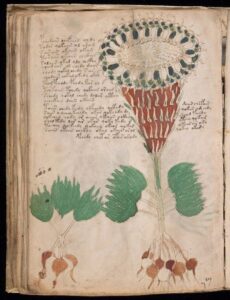 This blog has tackled impenetrable texts before when discussing the mysterious runic inscriptions on the Rök stone in Sweden, but few texts can rival the Voynich manuscript for intrigue. This hand-written tome is composed in an otherwise unknown writing system, which has defied all kinds of cryptographers over the years, from amateur enthusiasts to the British and American codebreakers who were deployed during the two world wars. It is not even clear whether the script represents a natural language, a constructed language, some form of code, or even a hoax.
The few things that are certain about the manuscript relate to its physical characteristics. It consists of about 240 pages of vellum, and it is thought that several pages are missing from the original, which would have had at least 272 pages. There is also evidence that the pages may originally have been bound in a different order. In 2009, carbon-dating technology was used to conclude that the vellum used in the Voynich manuscript dates from the early fifteenth century, while the goat skin binding is not original but was added roughly a century after its creation.
The number of alphabetic symbols in the text is estimated at anywhere between 15 and 30 characters. The symbols or letters themselves range from simple characters with a couple of pen strokes to more intricate shapes with ligatures or compound symbols. The text contains no punctuation (not unusual for old texts), nor any sign of sub-headings to break up the content. The left-aligned formatting on each page indicates a manuscript that is written from left to right.
Whatever the truth behind the text, further fascination is added by the extraordinary illustrations that feature on almost every page. The images are as impenetrable as the accompanying writing, showing a wild assembly of fictitious plants, people, and symbols. It is the images that have enabled experts to divide the book into six subsections: herbal, astronomical, biological, cosmological, pharmaceutical, and recipes. Scholars have even noted that some of the 'words' appear more commonly in certain sections than others, just as you would expect for a natural language, where the vocabulary would differ depending on the subject matter. The 'recipes' section is also distinctive for its lack of illustrations and the distinctive star-shaped illustrations down the left of each page that appear to demarcate paragraphs or similar structural elements.
However, for every clue that suggests the text might be a real language – thematic trends in vocabulary, average word length compatible with many European languages – other characteristics point away from natural language. For example, there are fewer recurring words than you would expect and there are also several instances where the same word is repeated up to five times in a row. Although the average word length is compatible with European languages, it is notable that there are no two-letter words or words with more than ten characters. Austrian Andreas Schinner identified unnatural regularities in word order that are unlike any known language, leading him to conclude that the manuscript is a "fraud's artful fabrication".
Another interesting feature of the manuscript is the absence of visible corrections, an unusual feat for a hand-written text. But once again this raises more questions than answers. The text could either have been extremely carefully executed, or it could be something where mistakes simply do not matter.
The hunt for meaning seems to have driven some people to the threshold of madness, and there is no shortage of claims by people to have deciphered the text. At any rate, the world's most famously unreadable book is certainly mesmerising. If you can't get yourself to the rare book and manuscript library at Yale University to view it directly, the next best thing is to head over to the Internet Archive site, where you can digitally leaf through the entire manuscript and marvel at its strangeness for yourself.