German is renowned for having a word for everything. Even non-German speakers know how brilliant the German compound noun system is if you need to create the right term for a very specific situation. German has been described as the Lego of languages, expertly assembling smaller components to create something new and wonderful. English has fully embraced lexical items such as Schadenfreude, Zeitgeist, Doppelganger, Wunderkind etc. And entire newspaper columns have been dedicated to the delights of Fernweh (the opposite of homesickness, or a longing for far-off places), Weltschmerz (a feeling of melancholy and world-weariness) and Kummerspeck (the excess fat gained by emotional eating).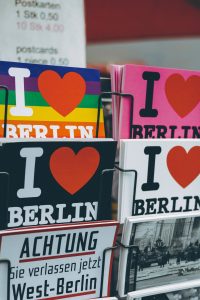 This reputation has now evolved even further, so if an English speaker wants to describe a particular situation that requires a reasonably length description, they will sometimes say "What's the German word for …", before providing their definition. This has produced a whole new genre, which I've noticed particularly on Twitter, usually used for comic effect or to elicit sympathy when events have taken a turn for the absurd. Which, let's face it, is pretty often these days.
So, we have @anne_sundell asking "What's the German word for getting dumped 30 minutes into a 2 hour Covid testing line & you're in the car together??" Or in December, following the spike in the new variant of Covid-19 in London and the South East, @nicolelampert asked innocently "What's the German word for the joy other people in the UK take when London is in trouble?".
British hospital consultant @drphiliplee1 has been active on social media in documenting the impact of the coronavirus crisis on frontline NHS services, not hesitating to be critical of government strategy along the way. He joins in the German word genre game, asking his followers, "What's the German word for the sense of guilt when you walk past a sanitiser dispenser without using it, even if you have just gelled, because you think it's judging you."
Journalist Simon Parkin deploys the same formula, this time to reflect on the impact of the EU's new post Brexit travel rules on Brits with holiday homes in Europe, asking "what's the German word for when you're too weary to experience schadenfreude?" The same linguistic phenomenon even inspired a Tom Gauld cartoon in the Guardian (see Sources).
Finally, author Piers Torday sums up the feeling I often have when staring at a blank screen before putting together a blog post "What's the German word for when you read a book so superbly, flawlessly written that for one brief, inspirational, illuminating, ecstatic, delusional, gullible moment it looks easy only to find out later when you sit down at your blank screen that it really, really still isn't?"
Even German may struggle to come up with a certified official translation for that…