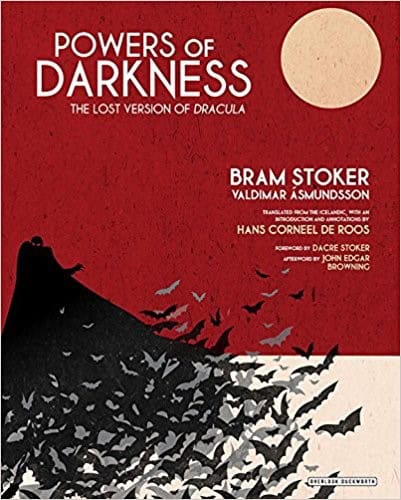 Translation always involves something of a tussle between remaining loyal to the original text and creating something new, which reads as if it was originally written in the target language. Never more so than for literary translation where the end product must be a work of the greatest creativity. So I was fascinated to read about the Icelandic translation of Bram Stoker's Dracula, which turns out to have been particularly creative with its source material. The translated book is fundamentally different from the original and is now considered a literary creation in its own right, and possibly even better than Stoker's novel!
Bram Stoker wrote his classic Gothic horror novel in 1897, introducing the character of Count Dracula to the world. While he did not invent the concept of the vampire, he certainly spawned the modern vampire genre and his book has inspired countless film, television and theatre adaptations. The Icelandic translation was supposedly of that original 1897 text and was created just a few years after the English publication. Makt Myrkranna, (or Powers of Darkness), as the text is called in Icelandic, was created by the translator Valdimar Ásmundsson and includes a preface written by Stoker himself.
The Icelandic translation existed in parallel to Stoker's text and was assumed to be a faithful translation of the original – presumably because so few people had actually read both works. In 1986 Dracula scholars became interested in the Icelandic text thanks to the preface written by Stoker. But still no one looked closely at the Icelandic novel itself. Only in 2014 did Dutch researcher Hans de Roos delve a bit further. Over a century after Makt Myrkranna's original publication, de Roos discovered that, far from offering up a mere translation of the original Dracula, Ásmundsson had done a complete re-write, introducing new characters and an entirely reworked plot. Some even argue that Ásmundsson's creation is superior to Stoker's original text. The Guardian states that it is "shorter, punchier, more erotic, and perhaps even more suspenseful".
The passage of time between Ásmundsson penning his creation and the discovery of quite how different it was to his source material, make it difficult to disentangle just how this came about. Perhaps Ásmundsson intentionally took liberties with the original text, believing he could improve Stoker's work. If this is the case, one has to echo the words of reviewer Colin Fleming in asking whether "any translator before has had the gumption to go this far in reinventing an original text". But it is possible that the Icelandic text is simply based on one of Stoker's earlier draft versions. A more mundane explanation, but one that offers up fascinating possibilities for Dracula scholars interested in the origins of Stoker's text.
The intriguing story behind the Icelandic Dracula has now been told in a book which presents the original Bram Stoker text along with Ásmundsson's version translated by Hans de Roos. A translation of a translation which perhaps wasn't a translation!
References
http://www.smithsonianmag.com/smart-news/icelandic-translation-dracula-actually-different-book-180963346/
https://www.theguardian.com/books/2017/apr/19/icelandic-dracula-bram-stoker-translator-powers-of-darkness-valdimir-asmundsson-makt-myrkranna