We have moved!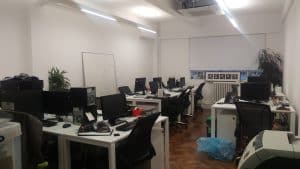 At the end of 2013 Rosetta Translation moved from its offices on Fleet Street (heart of the once roaring newspaper industry) further into the City to Cheapside. The move signalled a change for the company as it sought more floor space to support its expanding workforce and customer base. At the time Totality Services came on board to assist with the IT part of the move and have been a strong partner for Rosetta Translation ever since.
Earlier this year the decision was made to move again as the company had outgrown the space and a more functional layout was sought. This time the team found a flexible and central office location with more of a community vibe in Whitechapel. The new office location is on Whitechapel High Street and has provided Rosetta staff with a shared workspace, communal areas and co-working spaces. The location means that the office continues to be easily accessible for clients. Visitors to the office will be greeted at reception by the building staff, a Rosetta staff member will then accompany you to the office space.
Rossella Mastropietro, Translation Software Manager, successfully project managed the move and ensured that there was minimal disruption to the business and staff.  The support of Karis and Jaime in the project meant that the move was as seamless as possible. Great teamwork and cooperation across the board has allowed Rosetta's translation business to continue unaffected by the upheaval a move brings.
Over the years stuff accumulates and in moving locations staff have been able to have a good clear out. Not only that, but changing offices has meant a clean slate for furniture and décor.  Whilst some desks, mounds of paper and other bric-a-brac were recycled, some of the old office and communal area furniture were donated to the British Heart Foundation. We like to do our bit for charity! And we hope that what was our rubbish will become someone else's treasure.
Totality Services once again stepped in to help with the move of the IT infrastructure. Not only helping with the physical move but also the network connectivity ensuring no disruption to business continuation. Thanks To Pedro, Luis and, Alberto in particular, a real hero of the hour!
Lots of hard work and manual labour over a weekend meant that the Rosetta team was able to turn up to their new office location on Monday morning and continue as usual. Despite some teething problems with internet outages, with the help from Totality, business continued as usual.
The staff looks forward to settling in and continuing to build on the successes of 2016. Moving might be one of the most stressful events to manage in life but staff have shown tenacity, patience and determination to overcome obstacles. This successful mind-set is also applied to daily tasks and translates into a cohesive and productive work force. Projects are delivered on time, within budget and always to a high standard.
If you would like to contact Rosetta Translation please use the contact details below:
133 Whitechapel High St,
London, E1 7QA
Tel: +44 20 7248 2905 | Fax: +44 20 7504 8636
Email: info@rosettatranslation.com