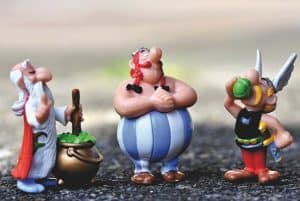 I've been meaning to write about the translation genius behind the Astérix books for a while. Anthea Bell died in October last year aged 82, so this seems a fitting moment to revisit her extraordinary body of work, for which she was awarded an OBE for services to literature and literary translation in 2010.
Bell worked with Derek Hockridge to create the English language versions of the comic strip written by René Goscinny. Perhaps it is no coincidence that her father, Adrian Bell, was the compiler of the first Times crossword, who liked to test out his cryptic clues at the family breakfast table ("Die of cold?" Answer: "ice cube"). Translating the Astérix books poses a similar challenge with a need to figure out solutions to abstruse linguistic puzzles.
Almost every frame poses a problem which is beyond remedy by any kind of direct translation. For instance, where the French uses a play on words involving 'melon' meaning either the fruit or a bowler hat, there is no way of replicating this in the translation so the phrase "Rather, old fruit" is used to retain some comic effect.
One of the joys in the original text is the way it provides jokes for readers of all ages, and the aim was to achieve the same in English. French literary sources are adapted to English texts e.g. a reference to Cyrano de Bergerac is altered to allude to Shakespeare's Hamlet. Bell recounts the difficulty of trying to capture the language of the ancient Britons who speak French with "a truly dreadful English accent" in Astérix chez les Bretons. She and Hockridge visited Goscinny to discuss the possibility of using the language of the "upper-class English twit", with phrases such as "What ho, old bean!" and "Hullo, old fruit". Goscinny loved the idea and once again the English translation produced an innovative solution which captured the spirit of the original, albeit with a very different approach.
It's even been claimed that Astérix could explain Brexit. I kid you not. In an article at unbabel.com Francisco Peres recounts a discussion with fellow students at the University of Hull about what it means to be European. His lecturer suggests that Britain's divergent attitude can be explained by insufficient numbers of British children reading the adventures of Astérix and Obelix. In an admittedly unscientific sample of 8, none of the British students had read the books, while all their "European" counterparts had. Peres suggests that these books offer much more than an entertaining account of Gaul versus Roman clashes: "… they were introducing us to Europe and its many cultures, without us even realising it. We learned about Swiss cheese, Belgian cyclists, British cuisine, Italian sports cars, and the Corsican spirit."
So if this blog does nothing else than prompt you to pick up a book about Astérix le Gaulois, I'll consider that a success!
Sources
https://www.theguardian.com/books/2018/oct/18/anthea-bell-obituary
https://web.archive.org/web/20100428113515/http://www.asterix-international.de/asterix/mirror/asterix_my_love.htm
Asterix in translation: the genius of Anthea Bell and Derek Hockridge
https://unbabel.com/the-understanding/asterix-the-real-reason-behind-brexit/