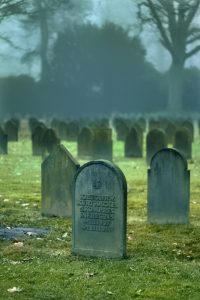 I had been intending to write a blog post about language, epitaphs and tombstone translation for a while, having always been entertained by Spike Milligan's request to have "I told you I was ill" on his gravestone. Following his death in 2002, he was buried at St Thomas's Church in Winchelsea, however the Diocese of Chichester disapproved of his dark humour and vetoed the inscription. A compromise was finally reached in which the equivalent Irish phrase "Dúirt mé leat go raibh mé breoite" was permitted, while the English text at the top of the headstone features the rather bland "Love, light, peace". Milligan had acquired Irish citizenship in middle age, which is a story worth investigating in itself as his application for British citizenship was rejected when he refused to sign an oath of allegiance to the Queen!
But I digress. I was reminded of the Milligan story recently as a Coventry family battled in court to get an Irish inscription on their mother's gravestone. Margaret Keane died at the age of 73 in 2018 and her family wanted her grave to be marked with a Celtic cross bearing the words "In ár gcroíthe go deo" – "in our hearts forever". Crucially, the family were determined for the inscription to appear solely in Irish, and not with an English tombstone translation.
The Church of England objected, and initially rejected the family's request in a ruling in its own religious court, where Stephen Eyre QC declared "Given the passions and feelings connected with the use of Irish Gaelic there is a sad risk that the phrase would be regarded as some form of slogan or that its inclusion without translation would of itself be seen as a political statement. That is not appropriate and it follows that the phrase […] must be accompanied by a translation which can be in a smaller font size."
The imposition of this enforced translation on the family attracted widespread sympathy, including from within the church. Senior church leaders seemed keen to distance themselves from their own court's decision, issuing a statement declaring that the verdict did not reflect official church policy.
Perhaps it is not surprising then that the initial prohibition on the exclusively Irish transcription was recently overturned at the splendidly named Court of Arches, an ecclesiastical court of the Church of England covering the Province of Canterbury. The written judgment with reasons has not yet been released as I write this, but the family's legal team argued that there were other inscriptions in foreign languages in the same graveyard that had not been translated into English. The ruling also specifies that a translation of the Irish inscription should be included in the parish register, rather than on the gravestone itself.