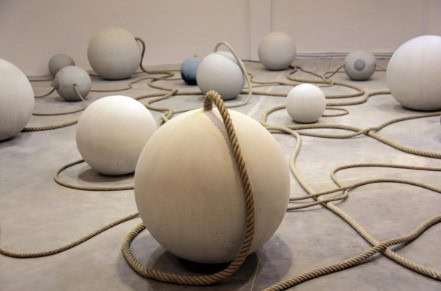 An art gallery might seem an unlikely place to find issues of language and translation being addressed. But two of the pieces in the installations currently showing at The Tanks at Tate Modern do exactly that. The Tanks gallery takes advantage of the huge circular spaces in the foundations of the Tate which were previously used to store oil when the building was a working power station. The spaces alone are impressive and worth exploring and once you are done wandering through the installations you shouldn't miss out on the quick lift trip up to the 10th floor where the viewing platform offers wonderful views over the Thames to St Pauls and all across London.
But don't leave the Tanks until you have enjoyed some of the linguistic delights on offer. The first installation you are likely to come across is called Mother Tongue and is a multi-screen artwork by Zineb Sedira who was born in Paris to Algerian parents and moved to London to study art. Her work often tackles issues of cultural displacement as well as the personal and social consequences of migration. In Mother Tongue, the first screen features the artist talking in French to her mother, who responds in Arabic. On the central screen the artist speaks in French to her English-speaking daughter. On the third screen the young daughter tries to talk to her grandmother in English, who responds in Arabic. There is a sense of increasing distance between the generations with the grandmother and granddaughter clearly struggling to communicate or understand each other.
Headphones attached to each screen allow you to listen in to each paired conversation in turn and,  depending what languages you yourself understand, you will be able to follow different sections of the dialogue, reflecting the family's own tussle with the linguistic obstacles facing them. I found myself listening to the artist recounting her school days in French with her daughter asking questions in English,  but my eyes kept straying to the third screen where granddaughter and grandmother had lapsed into awkward silence, glancing regularly at the invisible camera person apparently hoping for rescue from their conversational impasse.
In an adjacent room the artist Otobong Nkanga has created an installation called Wetin You Go Do, which integrates voice and sculpture in a series of concrete spheres connected by ropes. Soundtracks emanate from three of the spheres, combining narrative and song in English, French and Nigerian Pidgin. There is a dreamlike quality to the piece as sound and voice echo around the chamber. At times there is an indistinct musical feel to the background noise, then as you walk around the room a voice will emerge speaking distinctly and pondering the question which gives the installation its title in the English-based Nigerian creole language "What are you going to do?".
Source
http://www.tate.org.uk/visit/tate-modern/tanks