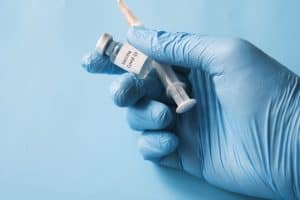 As Covid-19 vaccine programmes pick up speed across the world, a key challenge is ensuring that sufficiently large numbers accept the offer of a vaccine and that false information is corrected. In the UK there is evidence that vaccine take-up is particularly low among people from black, Asian and minority ethnic (BAME) backgrounds. Research from the Royal Society for Public Health revealed that 76% of the UK public would take the vaccine if advised to do so, but this figure fell to just 57% among BAME communities. This is a particular cause for concern given the disproportionate impact the virus has had on these communities in the first place.
Vaccine take-up can be influenced by many things and language can play a key role in combating misinformation. Firstly it is vital for written and audio-visual materials to be available in a wide range of languages. Secondly, the government has recognised that influential local individuals can help spread the right message by word of mouth or even local WhatsApp groups in communities where people may not be accessing information from official sources. In January, the Communities Secretary Robert Jenrick announced a funding package to help propagate Covid-19 vaccine advice via local "Community Champions".
Paulette Hamilton, Cabinet Member for Health and Social Care, said: "Champions are supported through regular live Q&A sessions allowing them to gain access to the latest advice and guidance that is accessible to those with various disabilities and language barriers to share amongst our communities." Essentially, this is a two-pronged approach to ensure information is available in the relevant languages and that it is disseminated by well-regarded and influential community leaders.
Birmingham already had a successful Community Champion scheme in place prior to the vaccine roll-out and their recruitment programme is ongoing, with information about what is involved and how to sign up offered in 11 languages: Arabic, Bengali, Traditional Chinese, Hindi, Kurdish, Pashto, Polish, Punjabi, Romanian, Somali and Urdu. Detailed local knowledge is required at council level to establish which languages are required. So, the equivalent list for the London borough of Newham includes Bengali, Mandarin, Cantonese, French, Gujarati, Hindi, Lithuanian, Polish, Portuguese, Punjabi, Romanian, Tamil and Urdu.
The language and translation focus for vaccine engagement should not just reflect the prevalence of different languages at local level – what is needed is an understanding of which communities are exhibiting low uptake and to what extent this might be remedied by providing accessible materials in the relevant language from a trusted source. BAME communities are not a homogenous group and there is little value in getting translations done for a community that is generally embracing the offer of vaccines.
Some doctors have been using their own local knowledge and language skills to help with vaccine uptake. For example, Dr Tehseen Khan, who works in Hackney, created a video in Urdu, which he shared on social media to provide accurate information and reassurance about the vaccine. NHS England's first Chief People Officer, Prerana Issar, celebrated the launch of the UK's first Hindu temple to serve as a vaccination centre with her own video in Hindi, encouraging those invited to attend their appointments.
Sources
https://www.mylondon.news/news/east-london-news/you-cant-blame-people-east-19719302
https://www.gov.uk/government/news/community-champions-to-give-covid-19-vaccine-advice-and-boost-take-up