The Pilot system: the future of instant interpreting?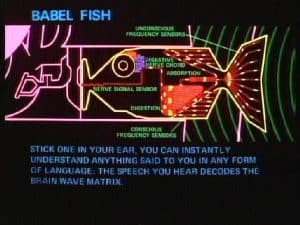 I have recently become aware of a new gadget soon to hit our shelves. This in-ear gadget appears to be something straight out of a science fiction film, and it certainly closely resembles the 'Babel Fish', from the cult book The Hitchhikers Guide to the Galaxy; a small yellow fish which, when inserted in the ear, translates from one language to another, allowing the wearer to communicate with any species they should happen to meet whilst crossing the galaxy. But, far from being a fish using its digestive system to provide simultaneous language interpretations, The Pilot, a creation from Waverly Labs, is a small wearable device to be worn by two people in order to instantly understand each other's languages, a magical device for instant interpreting.
According to the makers of this new 'ground-breaking' device, the Pilot is the 'convergence of wearable technology and machine translation [and is] is the world's first smart earpiece which translates between users speaking different languages.' It only works, however (perhaps obviously so), when two individuals are wearing the earpiece; each person speaks in his or her own language and the earpiece does the hard work for them. Apparently it also works offline and overseas, meaning that even more barriers can be overcome.
How this instant interpreting actually works is a little unclear- as the device is yet to be released not much is known about it- however we do know that it combines speech recognition, machine translation, speech synthesis and wearable smart technology in order to interpret the speech of your collocutor. But only if they speak French, Spanish, Italian, Portuguese and, of course, English (though they are set to release further languages including Japanese, Arabic and Russian later in 2017).
You can pre-order your pair of Pilot earpieces now (scheduled for release in May 2017), however on closer inspection of their website it appears that they have already sold out! The cost for two earpieces, a portable charger and the mobile phone app comes in at around $190 plus shipping. For a device that has yet to be finalized past a prototype and its translation app still in development, this is certainly no mean feat.
There is much hype around this technology, and the people behind it say they are aiming to release something that means a 'life without language barriers'. Pre-reviews from some tech and science magazines are also claiming –amongst other things- that this will help us from ever being lost in translation again and help us to woo foreign cuties!
Not only are there reviews backing the development of this technology, at the time of writing 12,150 individuals have financially backed it on indiegogo.com (a site where people can launch ideas and raise funding) raising $2,726,926 in funds for the development and launch. Proof that something that could have started as an idea bashed out over a pint of beer or two can really take off and have huge popular support.
In a world where many of us are sporting 'wearables' (Apple Watch, Fitbit etc.) and the hype about certain wearable technology is high (Google Glass, for example) is this just another device that we'll get excited about, purchase and then add to an ever growing heap of faddy technologies? I'm in two minds, but I'll let you decide for yourselves!
Interested in seeing how this real life alien fish works? Then watch this video where the creator, Andrew Ochoa, demonstrates its use having a conversation with a French girl: https://youtu.be/Y87Qk34BZUQ. If it all turns into a big belly-flop, don't hesitate to contact us at Rosetta Translation for all your language interpreting needs.
Resources for instant interpreting

http://www.bbc.co.uk/cult/hitchhikers/guide/babelfish.shtml
https://www.indiegogo.com/projects/meet-the-pilot-smart-earpiece-language-translator-headphones-travel#