It is always slightly risky to write a blog about current events, never more so than during the unpredictable Covid era. But hopefully, as you read this, the UEFA European Football Championship will be underway. One year late, and with some tweaks to the hosting venues and possible limits on spectators, but essentially in the same format as originally intended in 2020. As I write, the bookmakers have Belgium among the tournament favourites, and I have duly adopted them as my "third team" to support behind my loyalties to Wales (my homeland) and England (my adopted home).
The Belgian team is interesting for a linguistic peculiarity – communication between players and team officials is done in English, which is not even an official national language. Around 57 % of Belgians speak Dutch (a variant usually referred to as Flemish), 42 % French and 1 % German. The lack of a common language in the national football team makes English an attractive neutral option, with the bonus that it avoids either favouring or antagonising the Flemish or French contingents. Another factor is the international nature of the squad – only 2 of the 26 players are at Belgian clubs (midfielder Hans Vanaken and goalie Simon Mignolet, both of whom are at Club Brugge). The rest ply their trade in the Bundesliga, La Liga, Serie A and elsewhere, so they are well used to talking about football in other languages. There are so many Belgian players in the English Premier League, it has become something of a family joke that if you are not sure what country a player is from, you can just say Belgium and be in with a good chance of being correct.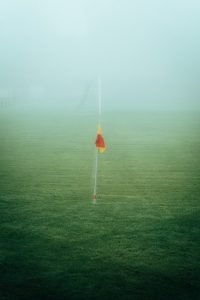 Since 2016, the team have been coached by Spaniard Roberto Martínez, who speaks none of Belgium's three official languages. His previous jobs at Everton, Wigan Athletic and Swansea, not to mention his playing career in the UK, mean he is comfortable using English to address the players. Having said this, when asked about the linguistic preference within the squad he suggested that the "language of football" conveys his intentions!
Twitter accounts for the Belgian Football Association and the national team (@RoyalBelgianFA and @BelRedDevils) also tweet overwhelmingly in English, reminding fans "it's #DEVILTIME" and urging the team on with "#COMEONBELGIUM". The same English chant was apparently also heard from fans on the terraces during the 2018 World Cup. So, if you are a neutral and need a team to pick, why not get behind the one squad who are acting as role models for language-learners everywhere and start rooting for "De Rode Duivels", "Les Diables Rouges", "Die Roten Teufel", or as we will call them "The Red Devils".
Sources
https://www.bbc.co.uk/news/world-europe-44624066
https://www.brussels.info/language/