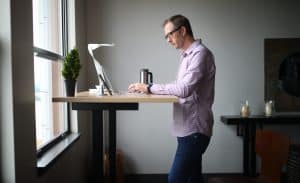 Like many jobs today, translation work involves hours tied to your computer typing furiously. It's hardly a recipe for a healthy brain or body. If you work exclusively from home you may have no human interaction at all except via email. This week's blog takes a look at some ideas to fend off the physical impact of a hermit-like existence spent staring at your monitor, and become a healthy translator.
Translation work is particularly brain-intensive. Realistically you can only work at a high level for fairly short periods. I think of it in a similar way to academic work – if you fail to take regular breaks, the quality of your work will fall, as will your productivity. Admittedly, when faced with a fast-approaching deadline it's amazing what you can do, but generally I try to limit translation sessions to an hour. One of the joys of working from home is the flexibility and something as simple as unloading the dishwasher or folding some laundry for 10 minutes can perk up your brain ready for another hour of focused translation effort.
This working style also lends itself perfectly to breaks for physical exercise to counterbalance your sedentary job. I like to set myself a target number of hours that I want to work each day, then I weave in a one hour block of physical activity, whether it's a quick bike ride, swim, run or some kind of fitness class. After all, I don't even commute to work nowadays, so it feels justified to use that time to move around a bit in some other way. And I'm sure I work at twice the speed when I return.
My other recent innovation in my quest to become a healthy translator has been to reduce my sitting time by using a standing desk. To be honest, I was put off this idea for a long time simply because these desks became so irritatingly trendy. But then my chair-bound hips seized up, causing dodgy knees and an interruption to my beloved running. So I overcame my prejudice and acquired a device that sits on top of my existing desk and can be lowered or raised using simple handles at the sides. It was much cheaper than most fancy standing desks but it's superbly engineered and works brilliantly. At first the standing can feel tiring, but you quickly adapt and it breaks up the day nicely having half hour standing then sitting sessions. I'm now a real sit-stand evangelist!
Another top recommendation for the desk-bound healthy translator is to learn to use the mouse with either hand. Repetitive strain caused by excessive mouse work is common because, even with the perfect desk setup, holding your arm out at that particular angle and moving it around is not ideal. You might find it slow at first to use the other hand, but being able to share the mouse load is worth the effort. Even better, of course, is to minimize mouse work in the first place, so learning key-stroke shortcuts is a good idea.
And this links to my final advice – choose your CAT software wisely! I recently took on an assignment requiring use of an online tool (I won't name and shame it) with the clunkiest interface imaginable: lots of repeated mouse actions and repetitive typing to do even the simplest editing tasks. It was a good reminder of the ergonomic joy of the better-designed CAT tools.