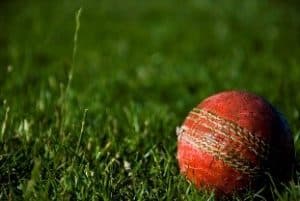 I cannot pretend to be a cricket aficionado but, many years ago, on returning from a spell living in Germany, I found myself obsessed with the radio commentary. It seemed to supply a quintessential British ingredient that had been missing during my time abroad. Undoubtedly, much of that pleasure was derived from the unique language used to describe the game rather than any interest in the outcome. This summer, I've been experiencing a similar sense of nostalgia as cricket rebooted in its new Covid-approved form.
Radio 4's Test Match Special is such a national institution it has its own Wikipedia page. The programme has been running since 1957, providing ball-by-ball commentary of England's Test matches and other cricket fixtures. The term "test" itself is potentially confusing: these are not test games in the sense of a practice or trial run, the name is derived from the fact that the matches may last up to five days and are a gruelling mental and physical challenge.
Bowling
The threatening sounding "leg break" does not in fact involve crippling the opposition. A break describes the way a ball changes direction after it is bowled, usually by using spin. So, a leg break is simply a ball that moves from leg to off. Conversely, I had long thought a googly sounded rather entertaining. But facing a delivery that looks like it's headed in one direction and then suddenly turns off deceptively in the opposite direction sounds rather terrifying. Especially when you consider the ball may be heading your way at 45-55 mph (that's for a spin delivery, for pace bowling you can pretty much double that figure). A yorker is a delivery that pitches very close to the batsman but is crucially not a full toss. And if a bowler really mixes up the types of delivery, they are said to be delivering a fruit salad.
Fielding
Understanding cricket fielding terminology is probably the biggest challenge for the newbie. "Long" and "deep" are fairly straightforward in referring to fielding positions in the outfield, far from the batsman. And we should also note the lovely "cow corner" used in jest to describe where a fielder may be waiting out in the long grass, somewhere between deep midwicket and long on. The cover fielders (including deep, extra and deep extra cover) are all positioned on the off side, ready to retrieve cover drive shots. Fielders in any of the "silly" positions (silly point, silly mid off, silly mid on) are required to stand in potentially hazardous proximity to the batsman.
Square fielding positions are on the leg side, square of the batsman's wicket. Fine is the area behind the batsman, the opposite of square. Just to confuse things further, all the fielding positions get renamed depending on whether the batsman is left or right-handed. So, the leg side, or "on" side positions are all reversed and swapped with their "off" side counterparts depending on the batsman's stance!
Scoring and tactics
Failure is invariably more entertaining than success, and cricket scoring is no different in this regard. So, we have a duck if the batsman is out without scoring, originally a duck's egg, from the shape of the "0" on the score card. There is also the golden duck for getting out on the first delivery, or the even more humiliating diamond duck for getting out without even facing a ball (e.g. from a run out). Or you might acquire spectacles from the 0-0 appearance of two ducks on the scoreboard.
Finally, linguists will delight in the fact that sledging has nothing to do with alpine antics but involves using verbal guile to strategically taunt the opposition. Is there any other sport where linguistic skills form such a key tactical strategy?
Sources
https://en.wikipedia.org/wiki/Test_Match_Special#External_links
Susie Dent Dent's Modern Tribes: The Secret Languages of Britain (2016) John Murray (Publishers)