The Australian's talent for slang was highlighted recently in a tweet by Oliver Burkeman, who declared "Today I learned of the Australian COVID-era abbreviations 'quazza' and 'locky d'. It's like some kind of compulsion with you guys, isn't it?" The replies quickly pointed out other Aussie Covid slang such as 'iso' and 'sanny' (isolation and hand sanitiser) and the country has even claimed credit for the ubiquitous 'rona', although that may have evolved simultaneously in several locations. Whatever the true origins of some of these words, Australians have a reputation as prodigious creators of slang.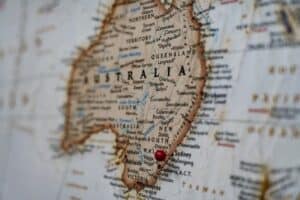 In 2015, a special Oxford Dictionaries project was completed in conjunction with the Australian National Dictionary Centre to update its online resources with over 500 new Australian entries, many of which can be classified as slang. A BBC Culture article celebrated several of these, including the global sensation that is the 'selfie'. This term deploys the '-ie' suffix, which is used as a marker of informality in Australian English, rather than indicating a diminutive, which is the more common usage in other varieties of English. Other examples include 'barbie', 'prezzie' and 'sunnies' (for barbecue, present and sunglasses).
Another popular and distinctive Australian suffix is '-o', as found in 'rello' (a relative) 'milko' (milkman) and the ingenious 'plonko' (alcoholic). This suffix is also used affectionately on names, thus Rob and Dean become "Robbo" and "Deano". (I can't think of any female examples, so perhaps this suffix is gender-specific).
The trend to add an '-ie' or '-o' seems to apply predominantly to monosyllabic words, with longer words first being abbreviated before the suffix is added (e.g. mosquito becomes 'mozzie'). Bruce Moore, former director of the Australian National Dictionary Centre, has written a great article tracing the history of these suffixes (see sources). Moore notes the distinctive way both suffixes are used in Australian English, where they serve primarily "as markers of informality, and among speakers they operate as a code of familiarity, common understanding, and solidarity".
Research by the Australian National University suggests that using this type of slang increases your likability among fellow Australians. Lead researcher, Dr Evan Kidd, concludes "these words are really emblematic of Australian culture – when you use them, you're indicating that we have shared cultural history and understanding, and this increases likability." There was a major caveat though, the positive effect was only found when the slang was delivered in a genuine Aussie accent!
As for the Australian penchant for slang, Chi Luu, writing in JSTOR Daily, concurs with Oliver Burkeman's assessment, "Australians can't seem to help themselves and will attempt to shorten any poor, innocent word they can get their hands on".