I recently noticed journalist Oliver Burkeman questioning the subtitling of the Netflix Series "Call my Agent", (original French title Dix pour cent; "ten percent"). Burkeman asked "Is it a much-commented-on thing already that Call My Agent seems to switch subtitlers halfway through season three? That's where we are, and suddenly everyone's saying 'totes' and 'y'all' and all sorts of other nonsense." So, I set off to write this blog post hoping my investigations would shed more light on his intriguing subtitling speculation.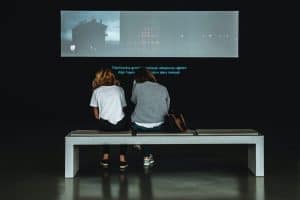 Sadly, despite some serious internet digging and pestering friends who are "Call my Agent fans", I have got nowhere in identifying any potential mid-series subtitler swap. Burkeman's original tweet seems to only have one reply, and with 50k followers you would imagine at least some of them are tuned in to this series. The obvious next move would have been to watch the series myself, but with 6 episodes per series, each lasting around an hour, there is a limit to what I will do to uncover material for this blog! At any rate, Burkeman has suggested further investigation by his colleague at the New Yorker, Lauren Collins, who is based in France. So, watch this space!
My failed attempts to unearth a global exclusive subtitling controversy did, however, bring me to an article by Stephen Armstrong in The Times, singing the praises of the linguists bringing various TV series to an international audience (see sources). Armstrong describes subtitlers as "the unsung heroes of some really good telly". And I have to agree. I've always been aware that subtitling requires chopping out much of the spoken dialogue, but I hadn't considered quite how much reworking of the script is required. Federico Spoletti, chief executive of subtitling agency Sub-Ti, explains that "reading speed is 60 to 70 per cent of speaking speed, so you have to cut 30 per cent of dialogue." Next time you complete a translation, think about having to rewrite the whole thing, losing 1 in 3 words while still conveying all the essential content.
Shrinking the dialogue may need be even more drastic for a programme like "Call my Agent", where they talk at breakneck speed. But that is still just the first challenge for the subtitler, who will also need to fit the trimmed content to coincide with the live action. Timing is crucial in subtitling. There is no way to pause the live action to fit in extra explanatory text. Each subtitle is usually displayed on screen for no longer than 6 or 7 seconds. Space is another constraint because you can't have lines of text obscuring the live action. The translation must be slotted in to 2 lines, each containing no more than about 42 characters.  Then there are the impossible to translate jokes, the plays on words, and cultural references (informal and formal pronouns are a perennial headache for subtitlers).
The skills involved in good-quality subtitling go far beyond the linguistic domain. And arguably the finest praise for a subtitled film or TV programme is that the viewer doesn't even notice the subtitling. As one of the comments on The Times article suggests, "Perhaps there should be a special Oscar for subtitlers". I wholeheartedly agree.