I should confess up front that I have never watched a Star Wars movie in its entirety. I have wandered past the TV on occasion when my husband and kids have been watching and once I viewed several minutes of some shooty business between Harrison Ford and what I believe are the stormtroopers before I got distracted and wandered off again. Two years ago there was a proposal to have a family outing to see "The Force Awakens" as a Boxing Day treat. This being my idea of Boxing Day purgatory, I successfully persuaded my oldest child to accompany me to watch "The Lady in the Van" instead!
Nonetheless, my ears pricked up when I heard that there was a linguistic and translation related storm brewing around "The Last Jedi", the latest issue in the Star Wars franchise. Rumours started circulating even before the film was released as eagle-eyed fans spotted that the title had been translated into the plural in several languages. English grammar gives nothing away here as we have the same definite article for singular and plural. What's more, unlike most English nouns, Jedi only exists in a single form: one Jedi, many Jedi. Many languages, however, have to make a decision as to which definite article to use. A friend visiting Spain expressed surprise at the plural translation choice "Los últimos Jedi" and this set me investigating.
The plural option turned out to be neither unusual nor accidental. All the European languages requiring a choice between singular and plural opted for the plural form. So Portuguese has "Os Últimos Jedi", French has "Les Derniers Jedi", German has "Die Letzten Jedi", Italian has "Gli Ultimi Jedi" etc.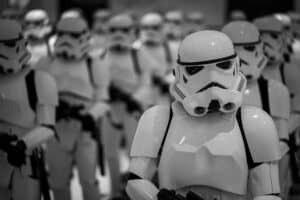 Star Wars fans began to speculate feverishly that this choice of plural might be an unwitting plot spoiler, with one user at starwarstheory.com posting: "In Greece the translation of 'The Last Jedi' is "Οι Tελευταίοι Jedi", which means that the title is plural. Is this revealing anything you didn't know or [is it] a translation error?". Some were quick to read great significance into the choice of language, concluding that the narrative must involve more than one last Jedi, not just Luke Skywalker.
Before things got too frantic, Star Wars director Rian Johnson waded in to clear things up saying "When the title was announced, I never even pondered that question. That seems like, to me, the most uninteresting question. In my mind it's singular. In my mind it is. Absolutely." In order to leave no room for doubt he was then asked specifically whether Luke was the last Jedi. Johnson's response seems clear: "I mean, they say so in 'The Force Awakens'. He's going to find the last Jedi temple, and Luke is the last Jedi."
But language is a slippery beast and this statement did nothing to stop a heated debate about the temporal nature of the word "last". Did it mean the last ever, the last for all eternity, or the last at this particular moment? And since the best movie franchises always benefit from keeping fans in suspense for as long as possible, Johnson himself wisely concluded: "There's always wiggle room in these movies – everything is from a certain point of view."
Sources
https://www.polygon.com/2017/4/17/15331420/the-last-jedi-plural-luke-rey