I was recently summoned to stand on the pavement and inspect the newly installed roof-mounted bike rack on our car as my partner took it on a test drive round the block. Unfortunately, we had not worked out a signalling system for what I would do to communicate any kind of malfunction. So, as he steered round the corner and the bike tilted gently over to one side, there was no way of drawing his attention to the mishap. A nervous couple of minutes followed as I waited for him to reappear, by which point the bike was lilting at a truly alarming angle and I was able to wave frantically and bring the test drive to a halt.
Let me say now, this whole spectacle would have been avoided if only the bike rack manufacturer had invested in a quality translation. Instead, they had deployed what they had presumably hoped would be the international language of symbols and pictures to communicate the installation instructions. We have all come across these booklets – a series of numbered images with baffling arrows and circles that are supposed to draw your attention to crucial details, but which might as well be written in indecipherable code.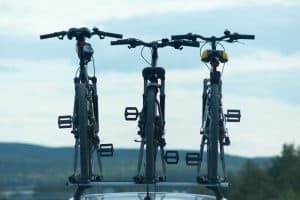 In this case, the manufacturer had gone to all the trouble of hiring translators in 16 languages to render the important advice "Read first!", "¡Leer primero!", "Zuerst lesen!" etc. on the front page of their assembly instructions. They had done the same to alert readers to the fact that an orange triangle containing an exclamation mark was flagging something "¡Importante!", "Important!", "Wichtig!" etc. No kidding, who would have guessed it? If only the same translators could have been paid a bit extra to insert the odd word of clarification in the impenetrable graphics that followed. In particular, the inclusion of a rectangular symbol with the "important" orange exclamation mark was apparently supposed to alert readers to the crucial detail that the next 6 pages only applied to the steel roof bars and that the instructions for the identical-looking aluminium equipment were buried later on in the depths of the instruction booklet.
A picture is often said to be worth a thousand words. Not in this case. And I can't imagine it would have broken the bank to hire some translators to provide text saying "steel rack only" or even "see page X for aluminium bars". Money well-spent, one would have thought.
Luckily, the tilting bike somehow remained on top of the car and, after following the tried and tested method of dismantling everything and starting all over again, the device was reinstalled properly. By the time you are reading this, the bikes will be careering around Cornwall, assuming they made it down there without falling off the car.