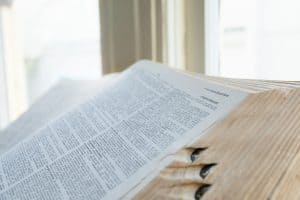 In this week's blog post I take a look at one of the most useful translation tools in the English language – Roget's Thesaurus. Often the skill of the translator lies not in their comprehension of the original language but in the way they recreate the text in the target language. And when you're grasping for the right word or wondering why your text doesn't flow as naturally as it might, there is no finer resource than a thesaurus.
The history of Roget's thesaurus is fascinating – it is named after its creator Peter Mark Roget who was a British physician, theologian and lexicographer. He created a first draft of the thesaurus in 1805 but it remained unpublished for 47 years, during which time Roget used it as "his personal, secret, treasure trove". Only when he was 73 and retired from professional life did he decide to publish his work, and the first edition was issued in 1852
Roget modestly explains in the preface that he compiled the work to "help supply my own deficiencies". He also acknowledged the enormity of the task he had taken on, stating that he "often contemplated its extension and improvement; but a sense of the magnitude of the task … deterred me from the attempt". Upon publication Roget apologetically declares "I am fully aware of its numerous deficiencies and imperfections and of its falling far short of the degree of excellence that might be attained" and he appeals to possible critics who "while they find it easy to detect faults, can at the same time duly appreciate difficulties".
In his book "The man who made lists" Joshua Kendall speculates that Roget's urge to categorise and classify the world around him might find its origin in the unstable mental health of several of his close family as well as in his own psychological disposition. A review in the New York Times aptly states that "Madness did not just run in his family; it galloped, sped, sprinted, dashed and made haste." Roget's maternal grandmother suffered from "chronic mental instability", his mother was "neurotic", both his sister and daughter suffered breakdowns and an uncle committed suicide in a gruesome manner, dying in Roget's arms.
Small wonder then that Roget is described as "humourless, melancholy and shy", a workaholic who sought refuge from the trials of life by engaging in compulsive counting and list-making. Whatever the motivation, the scale of Roget's lexicographic achievement is impressive. The book's first edition contained 15,000 words arranged in terms of his self-devised classification system with six primary classes each subdivided into multiple divisions and then sections. The entries are thus gathered into "meaning clusters" or groups of semantically linked words. While the groups of words are not necessarily synonymous, they express associated meanings or relate to different aspects of a particular concept. One general word is chosen as the headword to label each grouping. This thematic rather than alphabetic arrangement was ground-breaking and set Roget's project apart from the dictionaries which would have been familiar to his contemporaries.
Since its original publication, each edition of Roget's Thesaurus has grown in size, with the 1992 edition containing over a quarter of a million words. Sales now exceed 32 million copies and it is widely regarded as one of the most important linguistic reference works in the English language. It has even inspired a neologism of its own, with the phrase rogeting being used to describe the use of sufficient word substitutions to avoid detection of plagiarism by anti-plagiarism software.
Sources
https://www.penguin.co.uk/books/38386/roget-s-thesaurus-of-english-words-and-phrases/
https://en.wikipedia.org/wiki/Roget's_Thesaurus
http://www.nytimes.com/2008/03/16/books/review/Mallon-t.html
https://en.wikipedia.org/wiki/Plagiarism_detection