Aboriginal languages: Maori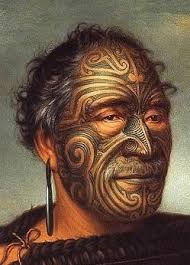 Think of New Zealand and you'll probably picture beautiful landscapes, outdoor adventures, the All Blacks rugby team and perhaps a nice glass of chilled Sauvignon Blanc. These are certainly images that come to mind for me. I also think of the Māori people, their language and iconic tattoos. Preserving the Maori language has actually become quite an major movement in the past few decades.
I recently had my hair cut by a man of Māori descent and got talking with him about his visible tattoos. He was full of interesting stories about his family's tribal backgrounds and what the tattoos meant.
The word 'tattoo' itself derives from the Tahitian word 'tatau'; apparently an onomatopoeic sound of the rhythmic sound of a fine wooden stick striking the tattooing 'needle' in order to penetrate the skin. In Māori language the word is  'ta moko'.  In Maori culture the head is seen as the most sacred part of the body, and so only the most important and high-ranking Maori had their full faces tattooed. The full facial 'moko' is a language in itself: it tells of the person's rank, power and authority. Certain designs on specific parts of the face (forehead or cheeks for example) show ancestry and position. No two tattoos are the same, allowing for easier identification.
The ancient Māori techniques of tattooing (using very sharp chiselled instruments – traditionally shark teeth or bones- and burnt wood/soot for the ink) persist today. The whole process seems to be an extremely long and painful process. Yet, it is an important part of keeping the Māori culture alive.
The striking tattoos were particularly useful in battle identifying who was your enemy or foe. But, the indelible markings are only one aspect of Māori culture. The language is also a significant part of their identity and there are many efforts underway both by the New Zealand Government and the Māori themselves for preserving the Maori language, and making sure that the language doesn't become extinct.
'Te reo' –'the language' as it is known to the Māori- is the ancestral language of New Zealand. Traditionally it was a spoken language and wasn't written down until the first Europeans settled in New Zealand. Initially settlers had to learn Māori to communicate. But, as settlers spread this became less common. Over the last 200 years the language has seen a significant decline. This is, undoubtedly, due to the influence of English and English speaking settlers. In 1867, it was agreed that all children should be taught uniquely in English, meaning that Māori was no longer apart of formal education.  Furthermore, the lure of city life for many individuals and families has meant a decrease in Māori communities, and thus a decline in use of the language at home.
In 1987, under the 'Māori Language Act', Māori was declared an 'official' language of the country. In the past few decades many efforts have been made to revive the language: the government supports Māori TV and radio broadcasts, as well as community language initiatives, financially.  In 2013, reports showed that 21.3% of Māori and 3.7% of the total population could speak Māori. As with any language, to stay alive and to evolve, te Reo Māori will need younger generations to continue learning about and speaking the language.
This year the annual Maori Language week will be held from 4-10 July and is a chance for all New Zealanders to celebrate te reo Māori. This year's themes is ākina to reo – behind you all the way which is about using te reo Māori to support people, to inspire and to cheer on. Each year the week aims to show that there is a place for Māori in everyday life and that it is a language for all New Zealanders. 50 or so simple phrases will be available to learn, and will be  shown in context such as on banners in sports stadiums or community events.
With the cultural initiatives of the Māori, the rich and interesting history of the native people as well educational and recreational efforts I hope that it will continue to (re) grow in popularity, respect and authority. With so many people now involved in preserving the Maori language, the chances look increasingly bright!
And with that, 'Ka nui tēnā' (that's enough) and E noho rā (goodbye!).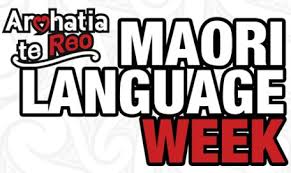 Sources:
http://history-nz.org/maori3.html
https://www.hrc.co.nz/your-rights/your-rights1/maori-language-history/
http://www.teara.govt.nz/en/te-reo-maori-the-maori-language
http://www.tetaurawhiri.govt.nz/what-we-do/events-and-promotions/maori-language-week/2016-maori-language-week/