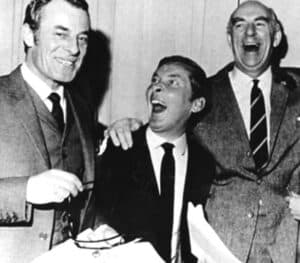 Polari is a form of slang associated with gay subculture, brought to mainstream attention in the UK by Kenneth Williams in Round the Horn, a radio show that had regular audiences of 15 million at its peak in the mid to late 1960s. Williams played one half of "Julian and Sandy" in what was then a ground-breaking representation of a gay couple to a mass audience in a family-friendly show. Linguist Paul Baker describes Julian and Sandy as "cheerfully gay, gliding past the censors by using a mixture of camp innuendo and Polari." Few listeners would have known what to make of the popular catchphrase "Ooh, how bona to vada your dolly old eke!" (Ooh, how nice to see your pretty old face), nor would they have understood that this phrase used vocabulary from Polari (other spellings include Palare, Parlary and Palarie).
Polari borrows lexical items from Italian, Cockney Rhyming Slang, Romani and Yiddish. Its roots can be found in a form of fairground slang called Parlyaree that goes back to at least the 17th century. From the 19th century, the most likely place to hear Polari was at London fish markets and theatres, but travelling fairgrounds and circuses were another rich source of Polari speakers. Since many homosexual men worked in the theatre and entertainment business, the language was soon adopted among the gay subculture, with some claiming it offered a degree of secrecy and protection at a time when homosexuality was still illegal. In the 1950s and 60s the British Merchant Navy became another popular destination for gay men, providing a place of relative freedom and a strong sense of belonging. Perhaps more than offering a secret code, the use of Polari helped cement the in-group identity in this marginalised community.
Paul Baker's book Fabulosa! The Story of Polari, Britain's Secret Gay Language documents the language in detail and he has collected a vocabulary of about 500 terms, although he points out that most speakers would only have known a tiny subset of these. Some of these words have been adopted in standard English and will be familiar to a wider audience, e.g. mince – to walk in an effeminate way, naff – lacking in good taste, slap – heavy make-up, butch – a lesbian exhibiting a masculine identity. The influence of Italian is also clear with feely – child, from figlio, and omi – man, from uomo. Polari also deploys backslang, in which a written word is spoken phonemically backwards (e.g. riah for hair, and eek, which is short for ecaf or face). And the sense of humour and emphasis on gossip is clear in phrases such as "Vada the dolly dish, shame about his bijou lallies" (Look at the attractive man, shame about his short legs!)
The need for a secret code or a way to signal in-group allegiance was arguably already in decline by the 1960s when Round the Horne was being broadcast, and the decriminalisation of consensual, private homosexual acts in 1967 was a key landmark in overcoming the stigma that had helped foster the language's popularity. Polari was frowned on by many in the gay liberation movement of the 1970s as being sexist and old-fashioned, and by 2000 Paul Baker's survey of over 800 gay men found that half had never heard of it and, of those who had, many had a less than favourable view of it. Its role now is as an example of a defunct argot, emblematic of a different era.