A recent trip to see family in Wales took me first into Shropshire (still in England) and then into Clwyd (over the border into the north eastern corner of Wales). As we drove, the road signs reflected the mixed linguistic heritage of this region and prompted lots of queries from my kids about the origins of the different place names. So this week's blog post takes a look at this particular linguistic melting pot and describes the kind of language borrowing and mutual influence which is typical of any border region. It also introduced me to a new word toponymy, the study of place names.
On our trip we stayed overnight in Shrewsbury, a small market town with a medieval layout and plenty of old timber buildings to admire. It is located about 9 miles east of the current Welsh border. This has been the site of many conflicts between the English and Welsh over the centuries and some of this is reflected in its various names. The ancient Britons are said to have called this place Pengwern, meaning "the alder hill", a name with clear links to modern Welsh. Pengwern was part of the Welsh kingdom of Powys in the early Middle Ages but, given the existence of several other Pengwerns in Wales, it is debatable whether modern-day Shrewsbury and Pengwern are actually on the same site.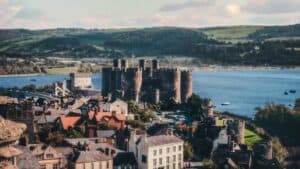 At any rate, in Old English Shrewsbury acquires a name with recognisable links to its current title, being known as Scrobbesburh (or Scrobbesbyrig), which may mean either "Scrobb's fort" or, more poetically perhaps, "the fortified place in the bushes". Its later Welsh name of Amwythig means "fortified place", which ties in neatly with the second suggested origin of the English version.
The next quirky place name on our travels was over the border in Wales as we spied a sign to Coedpoeth. I've been familiar with this name since childhood trips to visit grandparents in Wrexham and had always been intrigued by its composition from the Welsh words for "wood" coed, and "hot" poeth. It seems poeth originally also had the sense of "burnt" and indeed this area was apparently once a centre for charcoal burning.
The other place name which fascinated me as a child was Mold, which I needless to say associated with the blue stuff found on ancient cheese. In fact it seems to originate either from the Norman French "mont-hault" (high hill) or from Robert de Montalt, a Norman who built the motte and bailey at Mold castle in the 12th century. Meanwhile the Welsh placename of Yr Wyddgrug comes from the words for "tomb" gwydd and "mound" crug.
Finally let's go back into England to Oswestry, one of the UK's oldest border settlements. Old Oswestry has one of the UK's best preserved Iron Age hill forts so there is evidence of settlement going back thousands of years. Wikipedia lists an impressive array of historical names: Album Monasterium; Caer Ogyrfan; Blancminster; Blankmouster; Blancmustier; Croes Oswallt; Oswaldestre; Meresberie. In the Saxon period a battle was fought here which resulted in the death and dismemberment of Oswald of Northumbria. Legend has it that one of his arms was carried to an ash tree by a raven and that miracles were subsequently attributed to the tree. The town's modern Welsh name, Croesoswallt, means "Oswald's Cross", but the English link to this legend is even clearer with the town becoming known as "Oswald's tree", eventually forming the modern "Oswestry".
Sources