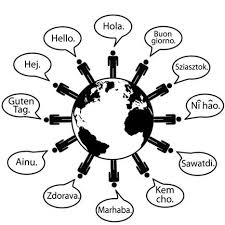 As the holiday season approaches and the retail madness that ensues this article will focus on the importance of translation and localization for traditional and online businesses. Specifically we'll look at the linke between retail and localisation, considering how our minds will soon be focused on present lists and bargains to be sought on Black Friday (an American shopping 'tradition' we have now adopted in the UK).
Traditional retail and our high street stores do seem to be hanging on despite recent economic hard times and the closure of several large well-known stores (e.g. BHS, HMV), nevertheless more and more consumers are using online retailers to save time and money, as well as to have access to a much wider variety of goods one could ever hope for on the local high street.
At the time of writing there are approximately 3.5 billion internet users world wide.  A staggering 92% of the UK population uses the internet, and elsewhere in the world –to pick out a few- China 52%, Brazil 66.5%, Japan 91% of their populations. That's a lot of people that can be reached in terms of online retail.
Whereas traditional retailers are restricted somewhat to the area they are located in or, on a larger scale, nationally, online retailers have no such boundaries. In the UK alone (according to a study by the Centre for Retail Research) online sales accounted for £52.25 billion in 2015 with an expected growth of 14.9% in 2016. Just imagine the potential!
Nevertheless many online retailers, and indeed businesses in general, are missing out on sales because they haven't localized their website or marketing/sales strategies, i.e. they haven't fully understood the strong connectio between retail and localisation.  It's obvious to state that what works in one country won't necessarily work in another country. The language a business uses earns trust in a consumer, and studies show that people buying from the internet are more likely to do so in their own language. Approximately only 28% of internet users are native English. So retailers not localizing their sites could potentially be missing out on sales to the remaining 72% of the internet population. Buyers are around 75% more likely to buy from retailers who have a site in their language. They can fully understand what they are purchasing and the terms and conditions surrounding their purchases. The same is to be said for marketing campaigns, what's the point of paying bucket loads for a campaign if the target audience won't understand it? So true for online search tools, will your business show up in searches if consumers search in their own language?
Professional translation and localization of your website, then, is an investment in your business' future. Investing time, effort and money into getting this done properly will help you reap the rewards in the future. By localizing your business you can reach potential customers all over the world and grow your business on a huge scale without, perhaps, ever having to leave the comfort of your armchair! As the number of internet users increases every second and online retail sector increasingly replaces the traditional sector there's no time like the present to get started on localizing your website and marketing content.
Resources
http://www.internetlivestats.com/internet-users/
http://www.retailresearch.org/onlineretailing.php