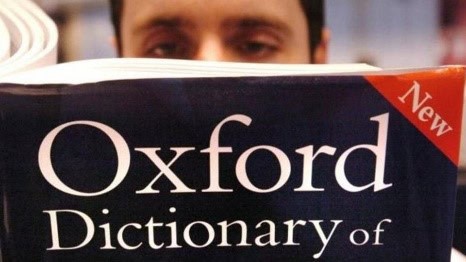 It's been a while since this blog delved into the wonderful world of new entries in the Oxford English Dictionary. Updates to the dictionary are made four times a year, with selected highlights summarised at the OED website by one of the editors. It's worth adding to your diary because the dictionary revisions and new additions are invariably a charming window onto contemporary culture. The latest batch of changes were made in June and we'll look at some of my favourites here just to tide you over until the next lot are due in September.
Many of the new words reflect fairly recent slang, such as bae: "A boyfriend or girlfriend; a romantic or sexual partner. Originally and chiefly as a term of endearment or affectionate form of address: sweetheart…" Some people have claimed it may be an abbreviation of "before anyone else" or "before all else",  but others suggest it is simply a shortening of "baby" or "babe". Rather less affectionately, we have jerkface, jerko, and jerkwad, all variants for "an irritating person", frequently used as a derogatory term of address. The term noob saves you all the effort of that extra syllable in newbie for "a person new to or inexperienced in a particular sphere or activity (originally and often in online contexts)".
The new entry gym bunny also says a lot about contemporary obsessions: "A person who spends a lot of time exercising at a gym, esp. to improve his or her appearance rather than for reasons of health or fitness." Not surprisingly, sexual politics gets a mention with hasbian, "A woman who previously identified as a lesbian, esp. one who now identifies as heterosexual." I'll leave you to browse the list for some rather more X-rated new entries in this category.
I was interested to see Johnny Foreigner (name for a non-British person) only now makes it into the OED. While coffin dodger (an elderly person, considered dismissively as close to death or enduring against the odds) perhaps shows that the British sense of humour is alive and kicking. There are some fine examples of word combining, such as schlockbuster, "a film or book which is highly popular or commercially successful but is regarded as having no artistic merit". And schmoozefest "an event, meeting, etc., involving a great deal of schmoozing (see schmooze v.); esp. one at which people chat in an ingratiating or insincere way".
Finally, we have the Overton window, "In political contexts: the spectrum of ideas on public policy and social issues considered acceptable or viable by the general public at a given time." There are certainly plenty of current political and legal events that have been ascribed to major shifts in the Overton window. The question is whether politicians actually have the power to move the window or whether they detect where it is and move their position accordingly.
Sources
Gym bunnies and junkyard dogs: new words in the June 2019 update