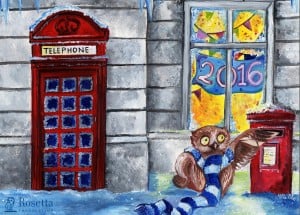 And so another year has passed, and what a year 2015 has been! As it has entered its 11th year of business, Rosetta Translation has continued to build on its success of previous years and has worked with longstanding and new clients alike to make this one of our best years in business, ever.
The start of 2015 saw some departures in senior management as Manchandan Sandhu, Director of Sales and Business Development, left after nearly 8 years with the company; and Helen Fream, Senior Manager, who left to travel South America. Berengere Gayon, Director, Head of Operations and Human Resources has continued throughout the year to lead the successful London office, whilst Eric Fixmer, Managing Director, heads up our Chinese office in Shanghai.
With staff departures comes fresh blood and energy to the team in the shape of David Southwell as Senior Business Development Manager and Paola Messina as Junior Account Manager. We also encourage internal promotion and development and we are pleased with the efforts of all our teams and the managers who lead them.
As ever our focus has continued to be on providing quality language services and we work hard to uphold out high standards. Every year we undergo ISO auditing and certification in order to be fully compliant with the ISO 9001:2008 International Standard for Quality Management. We are pleased to say every year we are recertified and pass the requirements with flying colours thanks to the efforts of Berengere. These efforts are clearly reflected in our customer satisfaction with customers providing continuous positive feedback on our delivery, product quality and customer service. Well done team for the great results throughout the year!
We continue to evolve our internal processes to adapt to the demands of our clients. Recording any project issues on a central management system has been one such addition to our processes has been key in fine-tuning our quality assurance and customer satisfaction goals. Furthermore, throughout 2015 we have remained in tune with translation memory developments and continue to leverage the benefits of this software.
As a team we are always keen to participate in events to stay abreast of the developments and evolution of the industry. Highlights of the year have included visits throughout the UK to the annual ATC conference in Manchester and the SDL Autumn Road Show as well as further afield to the Hi Technology and Industry Expo in Denmark. Not only does the team participate in industry-wide conferences, but also takes pride in its contribution to furthering education and awareness around the translation and interpreting industry. As such we regularly attend the University of Westminster Languages fair to share our experiences and advice with students, 2015 was no exception.
We hope that you have enjoyed following us throughout 2015 by reading our blog posts and social media postings. We appreciate your support and interest in us.
So, to end the year, we wish all of our customers, suppliers, translators and interpreters a very Merry Christmas and we will look forward to continued collaboration in 2016!