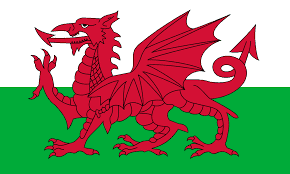 I spent Christmas in my home town of Aberystwyth in Wales and this gave me a chance to indulge in one of my favourite pastimes, flicking through my parents' back copies of the local newspaper The Cambrian News. Regional newspapers are always a delight for the London escapee with the paper featuring, for instance, headline news that the Aberystwyth RNLI lifeboat crew had been offered a free Christmas meal by one of the town pubs. Not to mention a front page story on plans to revive angling in a lake in Snowdonia. Or my husband's all time favourite Cambrian News headline "Streets of Shame" which related to the heinous crime of parking on double yellow lines around town due to the chronic lack of traffic wardens. This great local paper is also how we found out about the Marks and Spencer translation scandal in Wales.
Aberystwyth and the surrounding area has a high percentage of Welsh language speakers and so the local paper regularly contains stories which are of linguistic interest. According to the 2011 census around 57% of the population of Ceredigion speak Welsh, making it one of the regions with the highest percentage of those able to speak the Welsh language. It is sometimes difficult for monoglot UK English speakers to imagine that living in mid Wales you are genuinely immersed in the Welsh language even if you come from an English speaking household. Welsh language teaching is compulsory up to the age of 14 across Wales and, perhaps more importantly, approximately a quarter of Welsh school children receive their education through the medium of Welsh.
Welsh is evident in bilingual road signs, Welsh language television on channel S4C and you hear the language spoken everywhere you go. According to the Cambrian News the imminent opening of an M&S food store in Aberystwyth has come up against a linguistic impasse with Ceredigion councillors objecting to the store's planning proposal stating that the "Foodhall" sign to be erected outside the shop should also be translated into Welsh to reflect the bilingual nature of the community. M&S had already committed to bilingual signage within the store itself but claimed that the word "Foodhall" was a brand name and, as such, would not be translated. They pointed out that other brand signage such as Autograph, Per Una and Limited Collection would not be translated into Welsh. The company said "We've worked closely with the Welsh Language Commissioner to offer bilingual signage and service in all our stores across Wales, including adapting name badges so customers can easily identify our Welsh-speaking colleagues."
Welsh translation is not legally required for signage so M&S may have felt they were more than meeting the need to accommodate their Welsh language customers by ensuring that the majority of their signs were translated. The Tesco store which recently opened in Aberystwyth attracted criticism for its lack of bilingual signage. Indeed when Tesco opened its shop in November 2016 members of the Welsh language campaign group Cymdeithas yr Iaith Gymraeg affixed protest stickers to English language signage within the shop.
Tesco itself may possibly have felt a little nervous about providing bilingual in-store signage after an unfortunate incident back in 2014 where the "Free withdrawals" text on the cashpoint outside their Aberystwyth Express store was mistranslated into Welsh as offering "free erections". The entertaining error was quickly removed and the correct translation provided, but not before the story had caught the eye of the BBC and several national newspapers.
Meanwhile, M&S say their property team is reviewing the planning committee's decision and will be responding in due course. The Cambrian News will no doubt be providing updates as this vicious translation scandal in Wales continues to simmer.
Sources
https://en.wikipedia.org/wiki/List_of_Welsh_areas_by_percentage_of_Welsh-speakers
https://en.wikipedia.org/wiki/Welsh_medium_education
http://www.cambrian-news.co.uk/article.cfm?id=110661&headline=Tesco%20comes%20under%20fire%20over%20number%20of%20bilingual%20signs&sectionIs=news&searchyear=2016
http://www.cambrian-news.co.uk/article.cfm?id=111272