Recently this blog discussed language extinction and its impact on cultural diversity. This post highlights a beautiful children's book that tackles a similar theme, but with a focus on the loss of vocabulary used to describe our relationship with the natural world. Once again, we look at the link between language and culture and the mutual influence they have on each other, this time in the guise of "Lost Words".
"We find it hard to love what we cannot give a name to" says Robert Macfarlane of his book "Lost Words", produced in collaboration with illustrator Jackie Morris. The original inspiration for the book was the removal of various words describing the natural world from the Oxford Junior Dictionary on the grounds that this vocabulary was no longer used often enough by children to justify its inclusion. "Lost Words" is a celebration of the plants and creatures around us. It is also a sociolinguistic exploration of language change, highlighting words that may be on the cusp of being lost from children's everyday vocabulary. Macfarlane also sees language as a powerful tool to protect the environment: "We want this book to conjure back the common words and species that are steadily disappearing from everyday life."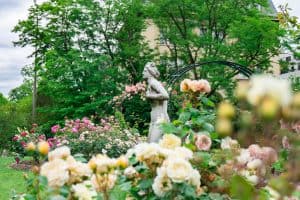 The book is designed as a series of "spells" with the idea that invoking the words is an essential part of protecting the natural world. Each entry comes with three artworks – the first depicts the plant or animal's absence. Over the page, the reader finds a spell, where the first letter of each line spells out the name of the plant or animal, with entries for ivy, otter, newt, kingfisher, and so on. This text is accompanied by another illustration complete with gold leaf embellishment. The final graphic shows the plant or animal in its natural habitat, as though speaking the words in the spell has indeed secured its place in the world.
"Lost Words" was published in 2017 and met with instant success and critical acclaim, winning the Books Are My Bag "Most Beautiful Book of the Year" award that same year. It also prompted various Kickstarter campaigns to fund copies of the book for primary schools. A Scottish school bus driver, Jane Beaton, raised enough money to give the book to every school in Scotland!
The Lost Words project has clearly captured people's imaginations as it also inspired a follow-up musical companion called "Spell Songs", with contributions from 8 musicians and new illustrations by Jackie Morris. A second volume "Spell Songs II" is due out in 2021. Each edition is beautiful and the perfect choice if you are looking for a language themed gift for a child, or simply a book that celebrates the power of poetry, language, and the natural world.
Sources
https://www.cam.ac.uk/thelostwords
https://www.theguardian.com/books/2018/feb/10/the-lost-words-campaign-delivers-nature-spellbook-to-scottish-schools