Wednesday October 16th marked the second International Pronouns Day. Organisers hope to make "respecting, sharing, and educating about personal pronouns commonplace". Harnessing language to bring about cultural change is nothing new, nor are the impassioned opinions voiced as a consequence. Pronouns are little words that pack a big punch.
If we take politeness as our starting premise, isn't it simply a matter of courtesy to call someone what they want to be called? On the other hand, since pronouns are used to speak about someone in the third person, i.e. not to address them, why should they get to determine in their absence how they are referenced? Whose preferences matter more: the person being spoken about, or the person doing the speaking?
The usual hand-wringing goes on about the supposed ungrammaticality of some of the options, especially the use of the plural pronoun to apply to a single individual. "They" has long been widely accepted as a neutral third person substitute: "Someone left their wallet behind. Could they please come and claim it". Where language is inherently gendered or sexist, playing with the options to make it less so seems eminently sensible. The switch from fireman to firefighter, air hostess to cabin crew changes our perceptions of those roles. Words matter and language evolves.
So you might imagine that a good compromise would be to use "they" for everyone. This avoids gender stereotyping and treats everyone equally. But some people claim that avoiding the act of gendering is just another form of prejudice against trans people. For those who feel strongly that they want their male or female gender identity recognised, the use of "they" is no better than the incorrect male/female pronoun.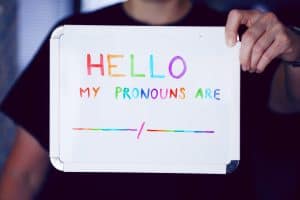 Does it really matter if someone "misgenders" your pronouns? Aren't there bigger fish to fry? If we accept that language impacts the way we think, pronouns could facilitate cultural change. You can debate whether linking pronouns with someone's "gender identity" is better or worse than linking them with the anatomy of an individual's reproductive system. But a desire to combat gender stereotypes seems entirely admirable. In which case, it's also reasonable to ask what "gender identity" actually means. When singer Sam Smith recently adopted third person plural pronouns to reflect their "non-binary" identity, they stated "I feel just as much woman as I am man" and also "I do think like a woman sometimes, in my head". Which makes you wonder, what does a woman think like, and what does it mean to feel male or female? If people have to conform to particular socio-cultural norms in order to be a particular gender, is that a retrogressive step?
Pronouns might seem a trivial thing to argue about. But behind this debate are serious questions about why referrals to gender identity clinics are rocketing and what are the ethics of providing hormone treatment and surgery for people (including children) whose bodies don't "fit" with their gender identity. We need to think about what gender identity means for biological definitions of sex and for legal rights to single-sex services (e.g. in medical institutions, women's refuges and prisons)? In sport, should gender identity or biology determine which category someone is permitted to compete in? And in data gathering and research, do we need information on subjects' biological sex or gender identity or both?
Whatever linguistic choices you make, it isn't hard to find someone who will object. There is arguably a tendency to obsess over lexical niceties instead of asking whether there was any actual intent to offend. One final question – which sociolinguists may wish to weigh in on – is whether languages without gendered pronouns promote less sexist societies.*
Whichever way to come down on about these contentious questions: Happy International Pronouns Day!
*Hint: a quick Google search will find linguists arguing vehemently both for and against!