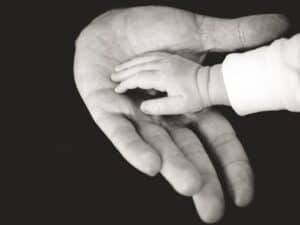 The Saturday Live show on BBC Radio 4 features a slot called "Inheritance Tracks", in which a guest shares a piece of music they would like to recommend to future generations and a piece they have themselves inherited from a previous generation. I think this format would work well for a language programme too. Perhaps the producers of Word of Mouth could introduce a similar feature to celebrate the magic of family sayings and other linguistic inheritances.
Every family has their own intergenerational linguistic hand-me downs that form part of the fabric of everyday conversation. Sometimes these sayings become so embedded it is easy to forget that an outsider may find their meaning impenetrable. In my own family, the term for "doing stuff on a smartphone" is dib-dabbing, after my dad exclaimed about a decade ago "What is she dib-dabbing at now?" upon seeing me on my phone yet again. It is such a perfect formulation, my own kids have picked it up and it has even morphed into a noun form, as in "I've lost my dib-dabber" (I've lost my iPhone). A visiting friend enjoyed it so much, she also uses this phrase and reported it spreading among acquaintances. We are a long way off OED recognition, but who knows?
More classic inheritance phrases come from standard English but capture something of the individual who uttered them. My paternal grandmother Ethel would regularly appear from the kitchen, tea towel in hand, to mutter disapproval at some shaggy-haired 1970s footballer or snooker player on the TV, and her favourite assessments "Look at the state of him" and "What an article" are regularly quoted by us today more than a quarter of a century after her death. The Co-op (as in the grocery store) is always referred to as "the damn Co-op" in honour of Ethel's husband Percy, who worked there for much of his life and was wryly critical and simultaneously protective of his former employer.
As well as coining the magnificent dib-dabbing, my dad's preferred term for a small child is grommet. A quick hunt for the etymological origins of this word mostly imply that it is a surfing term, popularised in Australia in the 1970s. But I'm pretty sure my brother and I were regularly called grommets around the same time in mid-Wales, so I suspect the surfing term itself has deeper roots. The Oxford Reference offers a hint at this, saying that gromet was a term for a youth or servant in the British Navy, derived from medieval Latin gromettus. In The Language of Sailing (Richard Mayne, 2000), gromet is said to have referred to the boys who tended the ships in harbour in the days of the Cinque Ports. Alternative spellings include gromit, which is surely the inspiration in Wallace and Gromit.
For less obvious reasons, my dad also uses "Herbert" to refer to a small child. In the best linguistic tradition of borrowing and adapting, my partner has taken this and merged it with the Dr. Seuss title "Horton hears a Who" to create "Horton hears a Herbert", a generic expression to be used whenever a parent can hear the noisy approach of a small child, perhaps galumphing merrily down the stairs or creating some other racket. I'm hopeful this will be a phrase to be handed on to the next generation.