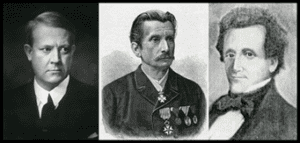 Getting your name in the dictionary by having something named after you might seem to be a pretty cool achievement, a way to achieve linguistic immortality. The list of things named after people is extensive. Not surprisingly, many of these items are inventions named after their creator, such as jacuzzi, saxophone and braille (credited respectively to the Jacuzzi brothers, Adolphe Sax and Louis Braille). Wikipedia has an entire page dedicated to inventions and their eponymous inventors. If you lack the ingenuity to devise some new contrivance, outer space is another rich area for tagging your name onto something, with minor planets, astronomical objects, and even craters on the moon named after all sorts of people. While pondering the many ways to get something named after you, we shouldn't forget the people who have entered the lexicon for things they would rather be forgotten, and these eponyms are the theme for this week's blog post.
masochism /ˈmasəkɪz(ə)m/ n. a form of (esp. sexual) perversion characterized by gratification derived from one's own pain or humiliation
Leopold Ritter von Sacher-Masoch (centre image) was an Austrian nobleman and writer, who made no secret of his disapproval of this use of his name, and who can blame him! His undesired linguistic immortality was foisted on him by contemporary Austrian psychiatrist Richard Freiherr von Krafft-Ebing. Although Masoch's erotic novels were one factor in coining the term, Krafft-Ebing made a much stronger claim, saying: "During recent years facts have been advanced which prove that Sacher-Masoch was not only the poet of Masochism, but that he himself was afflicted with the anomaly".
quisling /ˈkwɪzlɪŋ/ n. a person cooperating with an occupying enemy
If there was a ranking for least desirable eponym, going down in history as a byword for "traitor" might well top the table. And it was nothing Vidkun Abraham Lauritz Jonssøn Quisling (left image) did not deserve. Quisling's collaboration with invading German forces in 1940 culminated in him announcing on Norwegian national radio that a new government would be formed with himself as Prime Minister. His pro-Nazi puppet regime was regarded with contempt by many Norwegians at the time and following the war Quisling was found guilty of embezzlement, murder and high treason. He was executed by firing squad in 1945, his name forever linked with treachery.
lynch /lɪn(t)ʃ/ v.tr. put (a person) to death for an alleged offence without a legal trial
The term "Lynch's Law" is often attributed to Charles Lynch (1736-1796) (right image), referring to his organized but unauthorized punishment of British supporters during the American War of Independence. Somewhat incredibly, given the negative connotations of the term, a different Lynch, Captain William Lynch of Virginia (1742–1820), has also staked a claim to it, saying that he used it before Charles Lynch. Indeed, my copy of the Concise Oxford Dictionary attributes the etymological credit for lynching exclusively to the captain. The truth is unclear, but the quibbling over which Lynch could claim credit perhaps reveals that this term was not always thought of in such negative terms as it is today.