Languages in focus: Basque – Part Two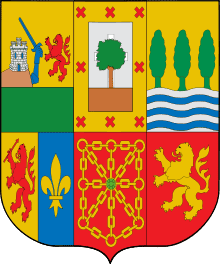 Having spoken with a native English person living in Spain and learning Basque in part one, I thought it would also be interesting to gain the perspective of a person who grew up surrounded by Basque. Victoria, whose Basque name is Gurenda, also speaks Spanish, French and English. Having grown up in Northern Spain as a child her family moved to France, her family later moved back to the Basque country and they have been there ever since.
I spoke with her about the language and what it meant to her, and have recorded a simplified version of our chat here…
What does being Basque and speaking the language mean to you?
Being Basque for me means a special way of being, passed down through generations. I speak Basque only at an intermediate level, but as far as I am concerned, I am very moved when I speak the language on one side, and on the other, it has enabled me to enjoy all types of Basque cultural activities like reading, and to feel really part of the community.
Is it an important part of your identity?
Yes, it is. All my family come from Basque origins. I am Basque and not Spanish.
Are there any words or phrases in Basque that are simply 'untranslatable'? If so, what are they?
Names of certain musical instruments like txalaparta (planks of wood hit by mallets), txistu (a kind of flute), or trikitixa (a type of accordion). There is also Kaiku (a kind of jacket made of wool originally worn by mountain shepherds), Txistorra (a kind of thin chorizo sausage) and Aurresku (a dance performed to honour visitors/guests).
Are there any interesting facts about the language that you can share with us?
Basque is not related to any other known language. The order of words (noun/adjective/verb etc) is very different from other languages like Spanish or English. For example, please speak more slowly in Basque is 'Astiro-astiro hitz egin mesedez' (Slowly-slowly talk do (= speak) please).
So there you have it. This brings us to the end of our two part series with insights into the wonderful and mysterious language of Basque. Quite simply it is a language like no other and certainly sounds like it. It's been interesting for me to hear more about the language and to understand its cultural importance to the people who live in the Basque country; I hope you have found it to be also. It is imperative to the culture and population that this language continues to live, grow and adapt to the times. What is key is the effort and status that Basque is already given, and this is evident when visiting the region. So, why not give it a try and be a part of history!
Resources
With thanks to Victoria Aguirre Aranzabal for her valuable contributions to this article.