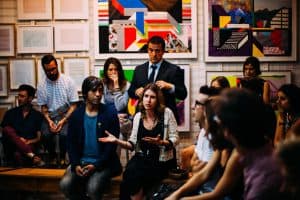 Twitter is a great distraction and a veritable timewaster, but every so often it leads you to an undiscovered gem that makes all those lost hours seem worthwhile. So it was that, as I was musing about the relationship between language loss and cultural diversity, I stumbled across this lovely, tweeted quotation about language from Wade Davis: "A language is not just a body of vocabulary or a set of grammatical rules, a language is a flash of the human spirit. Every language is an old-growth forest of the mind, a watershed of thought, an ecosystem of spiritual possibilities."
This quote in turn led me to his TED talk recorded in February 2003 on anthropology and the erosion of cultural diversity. I encourage you to watch the whole thing; here I have focused on the issues he raises relating to language.
Davis is a Canadian anthropologist, who held the enviable job title of "Explorer in Residence" at the National Geographic Society from 2000 to 2013. He begins his TED talk by describing what we have in common as human beings, before going on to underline his passionate belief in the importance of cultural diversity. He says, "It shouldn't surprise us that we all sing, we all dance, we all have art … what's interesting is the unique cadence of the song, the rhythm of the dance in every culture".
Davis describes this cultural web as the "ethnosphere" and proposes that it is "humanity's greatest legacy". Most of us are aware of the threats and changes to the biosphere, but Davis is keen to highlight that the ethnosphere is equally at risk. Indeed he suggests it is possibly being eroded at an even greater rate than the biosphere. For linguists, what is interesting is his proposal that language is the best indicator of this loss of cultural diversity. In an interview with NPR (US National Public Radio), Davis describes language as "the canary in the coal mine, a concrete and extremely disturbing indicator of what is happening to cultures in general."
In his TED talk, Davis informs the audience that 6000 languages were spoken on the planet when they were born. He suggests that around half of these are no longer being spoken to the next generation of children, which effectively means they are on the path to extinction. "Every two weeks, some elder dies and carries with him into the grave the last syllables of an ancient tongue."
Imagine, as he proposes, that 50 percent of all biological species were on the brink of extinction. If we accept Davis's definition of the ethnosphere as being "the sum total of all thoughts and dreams, myths, ideas, inspirations, intuitions brought into being by the human imagination since the dawn of consciousness", this loss of cultural and linguistic diversity is almost unimaginable.
His warning is stark: "the 20th century … is not going to be remembered for its wars or its technological innovations, but rather as the era in which we stood by and either actively endorsed or passively accepted the massive destruction of both biological and cultural diversity on the planet". Whether or not you agree with this pessimistic view, Davis certainly captures the importance of language to the human experience.
Sources
https://www.npr.org/programs/re/archivesdate/2003/may/mali/davisinterview.html