We tend to assume that books aimed at the pre-school age group are written in simplified language to make sure the target audience can follow the narrative. A recent article in the TES suggests that these texts are, in fact, more complex than you might think both in terms of their vocabulary and syntax and that it is precisely this complexity which makes the experience of having an adult read aloud to you so crucial to language development in young children. This "shared reading" gives the child access to texts which they cannot yet read themselves and exposes them to a type of language which they would otherwise not encounter.
Many of the benefits of having a grown up read to a young child have to do with emotional bonding, one-to-one attention and fun. It also seems clear that shared reading sessions can be habit-forming in terms of independent reading becoming an enjoyable activity in later life. But psychologist Kate Nation from the University of Oxford is also keen to stress the purely linguistic benefits of shared reading. She highlights a study which looked at vocabulary from over 100 books written for pre-schoolers and then compared this with the vocabulary used in child-directed speech. The vocabulary from the early-years books was lexically far more diverse than that used in spoken language.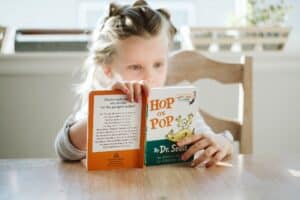 Shared reading exposes children to words that they would otherwise be unlikely to encounter. There is also evidence that the syntactic complexity of books written for pre-schoolers is greater than that in spoken language directed at children. In fact, Nation cites a study which suggests that the syntactic complexity of children's books is sometimes greater than that in every-day conversations between adults.
So, books which are read aloud to young children give them access to a wider range of vocabulary and more complex grammatical structures. Another crucial feature of shared reading is the adult-child discussion which takes place around the text. There is evidence to suggest that even when reading very simple picture books to a young child, parents tend to use more complex language in their discussions around the text than they would in normal interactions with their child.
Since we know that shared reading is closely associated with social background, the question is what can done to reduce the disadvantage which applies to some children before they even start school. Despite several inspiring social initiatives to promote shared reading and exposure to books in the early years, it seems this is a hard nut to crack. Even with intensive community interventions and schemes to provide better access to books to pre-school children, the TES article fails to find a study which actually demonstrates an empirical benefit in terms of subsequent language development. Kate Nation suggests that the challenge may lie in developing shared interactions with a particular adult over an extended period and points out how difficult this is to achieve in certain community settings where the adults themselves have had limited exposure to books. She focuses on the crucial role which can be played in schools, where reading aloud to the kids is sometimes considered to be less important than teaching the kids to read themselves.
It is crucial to emphasise the distinction between shared reading on the one hand, and structured reading activities aimed at teaching children to read themselves on the other hand. An adult reading to children gives them access to complex, diverse and stimulating texts and this could be a vital part of the foundation for subsequent independent reading.
Source
Article from the Times Educational Supplement, by Kate Nation "The Secret Life of the Book". 9 March 2018