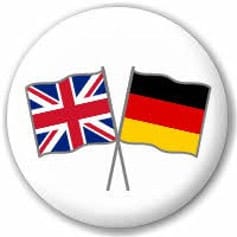 This week's blog post is a shameless exhortation to go and read something else! Specifically a beautiful piece by John le Carré (real name David Cornwell) which was originally delivered as part of this year's award ceremony for German teachers held at the German embassy in London. The speech was subsequently adapted for publication in the Guardian. The British author, best known for his espionage novels, began learning German at age 13 and studied foreign languages at the University of Bern in Switzerland. He has retained a lifelong passion for the German language.
As Brexit negotiations form the backdrop to everyday political life in Britain and fundamental questions are raised about our attitude towards our relationship with other countries, Le Carré sings the praises of language learning as a path to understanding:
"The decision to learn a foreign language is to me an act of friendship. It is indeed a holding out of the hand. It's not just a route to negotiation. It's also to get to know you better, to draw closer to you and your culture, your social manners and your way of thinking. And the decision to teach a foreign language is an act of commitment, generosity and mediation."
From my biased perspective as a German to English translator it is wonderful to read how Le Carré delights in the German language specifically. Average Brits who speak nothing more than a bit of schoolbook French are quick to praise the Romance languages for their supposed beauty and elegance. But German is just as charming and has a joy all of its own. Le Carré reminisces about listening to gramophone recordings of classical German actors reading the poetry of Heinrich Heine and the other Romantics. He revels in the fun to be had with German's infinitely flexible compound word creation: "You can make up crazy adjectives like 'my-recently-by-my-parents-thrown- out-of- the-window PlayStation'".
This reminded me of Mark Twain's famous essay on the "Awful German language", in which he laments "these long things [which] are hardly legitimate words, but are rather combinations of words, and the inventor of them ought to have been killed". I got so side-tracked and absorbed in Twain's delightful and despairing battle with German that this prompted a whole new blog post (you'll have to wait until the next issue for that!).
At any rate, translators wrestle with the quirks of their source and target languages on a daily basis and Le Carré is quick to express his admiration for their achievements:
"No wonder then that the most conscientious editors of my novels are not those for whom English is their first language, but the foreign translators who bring their relentless eye to the tautological phrase or factual inaccuracy – of which there are far too many. My German translator is particularly infuriating."
John Le Carré's allusions to the dangers facing Brexit are also accompanied by a dire warning directed across the Atlantic. He stresses the power of language, stating "Clear language … to a man at war with both truth and reason, is an existential threat". And he venerates the role which teachers have to play: "Those who teach language, those who cherish its accuracy and meaning and beauty, are the custodians of truth in a dangerous age."
Sources
https://www.theguardian.com/education/2017/jul/02/why-we-should-learn-german-john-le-carre
http://www.uk.diplo.de/Vertretung/unitedkingdom/en/06/1-GTA/GTA2017.html