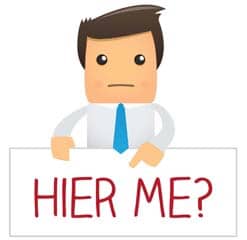 "Perfection level is not to high from me…"
Believe it or not this is from an application for a job…
We receive between 40 and 60 unsolicited translator applications every day. A lot are professionally presented and to the point. Quite a few are not, though. Here are some of the most entertaining from genuine email applications received this week. Names have been removed to protect the innocent (or clueless). In a follow-up post, I will be dealing with some of the issues that may be slightly less obvious.
The quote in the title is a subject line of an email. These subject lines are particularly crucial. A good one can encourage an agency to think of you as a truly professional translator. A bad one lands you straight in the bin. Or here. Which is worse.
Here are a few more:
"Professional Naive French Tanslator 24/7 available"
Naïve indeed. Professionally so. But then, what do I know about professional tanslators? Cut the guy some slack: he tanslates 24/7.
"Ability to establish and maintain good working."
I know, I know: not everybody is a native English speaker. On the other hand, this one also proposes to translate INTO English.
"Contact me to provide you with my special services"
Hmmm….. I waited to open this one until I was sure nobody could see my screen. Imagine my relief (disappointment?) when I realised the woman was only selling translation services after all, just very, very special ones.
And talking about special:
"Translation is my special world"
Yes dear, that's really nice. Is it time for your meds yet?
"German father and an English mother"
Yes, great, I have such a set of parents, too. Now, why exactly did you email me?
And then there are the plain cryptic ones, like:
"I offer bestowal without confines …"
Limitless gifts? I'm in!
And sometimes one wonders if it's a case of near total ignorance of the English language, or great comic genius:
"I am ensures accuracy of the service provided…"
Yes sir, as long as it's not translation services, I might even believe you.
And along the same line, one that I receive most weeks, one way or another:
"Spanish<>English transltor"
Along with its even more confused sibling:
Shanghai Interpreter Trasnlator"
I am often told I should be kinder. So here is my attempt: well done for including all the right letters. The next stage is to try and assemble them into what we call 'words'!
And, yes, sometimes, quite occasionally, I actually make it past a – well-written- subject line, open the email, and then something like this happens:
"Hello,
Sorry, I am not a native speaker of Spanish, but, nevertheless, I can provide quality translations from English to Spanish."
And a bit further down:
"I have not obtained an official translator / linguist degree, but I still provide high-quality language services."
By which time I obviously wish the title had been as wrong as the above. I will never get those five minutes back that I spent reading that email.
For help on what to do and what not do when applying for freelance translator positions check out our next articles!