When we acquire language, we build up an internal store of semantic information that allows us to interpret the meaning of words when we encounter them again. Generally, this process is remarkably successful, but every so often it misfires, and a word is filed away in our brain with an erroneous or idiosyncratic word definition.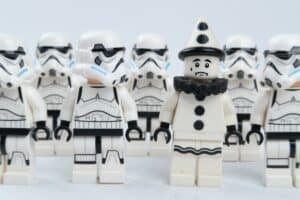 At least some of the charm of these idiosyncratic definitions lies in how elusive they are to track down. The individual who has acquired a mistaken definition can often be blissfully unaware of their error for a long time, which makes these semantic mishaps difficult to detect. I keep a notes file on my phone ready to capture misinterpreted lexical items whenever one is encountered. My log goes back several years and starts with a discussion between comedian Ben Bailey Smith and film critic Mark Kermode on Radio 5's Friday afternoon film review show. Bailey Smith reveals his long-standing and mistaken belief that the word erstwhile meant 'well-established' rather than 'former'. In other words, an idiosyncratic definition that is entirely at odds with the true meaning. He retrospectively speculates that this warped interpretation might be due to the phonetic similarity between 'erst' and 'earnest', resulting him subconsciously tacking on a sense of 'whole-heartedly' or 'seriously' to the suffix 'while' meaning 'for a long time', and creating the mistaken definition of something that is venerable and long-standing.
This is a perfect example of an idiosyncratic word definition. The result is clearly at odds with the standard semantic interpretation and owes its creation to the way we often guess the meaning from context when acquiring or extending an understanding of language. In response to Bailey Smith's confession, Mark Kermode then reveals an idiosyncratic misinterpretation of his own in which he construed putative to mean 'budding' in the sense of 'going to be in future', rather than the standard definition of 'generally considered or reputed to be'. In this case, he struggles to explain where his erroneous definition came from. He wonders if there is a possible confusion with the verb pullulate, meaning 'to send forth sprouts, buds etc.', or maybe with plumule, which is the 'rudimentary shoot or stem of an embryo plant'. Both explanations seem rather tenuous; sometimes the inner workings of the mind are mysterious, and we have no way of knowing how a particular definition was settled on.
I think these kinds of misunderstandings are subtly different to the more common misinterpretations of similar sounding words, for example uncharted versus unchartered, or tortuous versus torturous. These can be equally mistaken in semantic terms, but the source of the error is immediately obvious. The idiosyncratic word definition, by contrast, has a quirky character that is unique to its creator or at least unlikely to be shared by others.