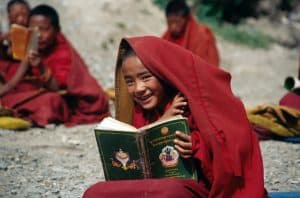 I cannot profess to paying much attention to the New Year Honours list, but anything relating to language is always likely to catch my eye. The 2021 awards included a CBE for services to educational research for Professor Usha Goswami, Director of the Centre for Neuroscience in Education at the University of Cambridge. What interested me was Goswami's research into the development of children's reading ability, particularly her work on dyslexia.
Goswami's work explores the relationship between phonology and reading, looking at the role rhyme and rhythm can play in reading acquisition. Her discovery that dyslexic children struggle with the temporal processing of speech offers a new insight into possible causes of reading difficulties as well as offering an innovative therapeutic approach.
After completing an undergraduate degree in Experimental Psychology, Goswami trained as a primary school teacher, which stimulated her interest children's language development and their strategies for developing reading skills. She became particularly fascinated by the potential link between auditory speech processing and reading. Her undergraduate tutor, Peter Blake, had shown that children's nursery rhyme awareness was a good predictor of their reading ability. Goswami was surprised to find little coverage of this in the teacher training curriculum and wanted to find out more about the initially counterintuitive link between rhythm, rhyme and reading.
Goswami uses sophisticated neuroimaging to explore developmental language disorders, which are thought to affect around 7% of children. This has enabled her to examine the neural basis for developmental dyslexia and she has been instrumental in redefining dyslexia as a language disorder, rather than a visual disorder as previously thought. Her experiments have shown that dyslexic children hear language in a slightly different way to other children. In particular, children with dyslexia seem to be less sensitive to the variations in pressure in the sound wave that are key to the perception of speech rhythms.
Goswami suggests that exposure to poetry reading, nursery rhymes, and singing could help mitigate these issues. The pedagogical applications of Goswami's research are clearly far-reaching, but her work also has diagnostic potential. In 2019, she was awarded the Yidan Prize, which recognises contributions to educational research and development. This includes a grant to fund further research, which Goswami will use to collect neural data that could be processed using machine learning to help identify children with developmental language disorders. If successful, this could pave the way for innovative screening techniques to facilitate early intervention.
Sources
https://www.cam.ac.uk/news/cambridge-academics-recognised-in-2021-new-year-honours?utm_campaign=news&utm_medium=social&utm_source=linkedin
https://www.tes.com/news/we-must-understand-root-causes-dyslexia